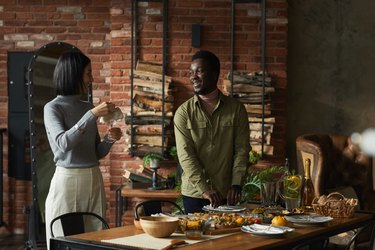 You hear Thanksgiving, you think turkey. But if you're keeping this year's holiday dinner small (or you just have turkey fatigue), it may be time to start a new tradition.
These fresh and tasty main dishes are the perfect last-minute turkey alternatives to try this Thanksgiving — whether you're plant-based or all about meat. Plus, most of these meals are dynamic, so you'll be able to serve them with all of your favorite sides (because everything goes with buttery mashed potatoes, right?).
Before you pick your new main entree, just double check the cook time as a few of these recipes require a bit more time in the oven. Nevertheless, making any of these delicious Thanksgiving main dishes is still still an easier lift than scrambling for a turkey at your local grocery store.
1. Vegetarian Thanksgiving Lasagna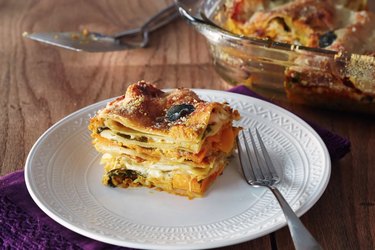 Nothing says comfort quite like lasagna — and Thanksgiving is the perfect time to enjoy this cheesy dish. This lasagna recipe takes advantage of seasonal vegetables, such as pumpkin and butternut squash. Considering it only takes about an hour to get from kitchen to table, it's less of a commitment than a turkey — plus, it's meat-free but high-protein (it packs about 16 grams per serving).
2. Braised Lamb Chops With Cranberry-Harissa Chutney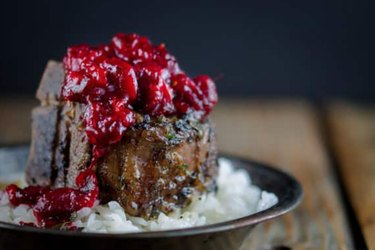 Although lamb chops may seem daunting to make, this recipe only requires about 15 minutes of prep time. The Mediterranean meat staple gets an upgrade with a festive cranberry chutney and a bright garnish of crushed mint and fresh parsley. Plan to serve about two to three lamb chops per person.
3. Oven Baked Chicken Breast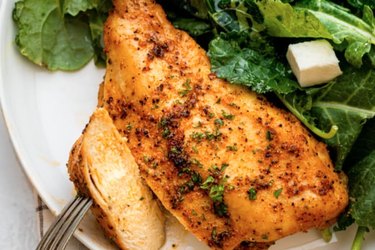 A giant bird probably isn't the best for a small Thanksgiving dinner party — unless you plan to eat turkey leftovers for the entire week. Instead, go with some classic oven-baked chicken. Like turkey, chicken is a lean meat that can be served alongside all of your usual Thanksgiving side dishes. This baked chicken is juicy but will take only about half an hour to prepare, making this holiday feast a breeze.
4. Brussels Sprout Mushroom Pizza With Crispy Prosciutto and Sage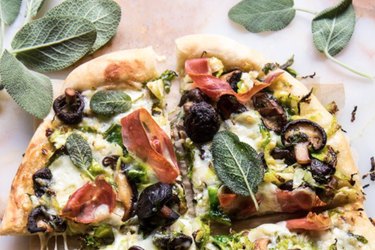 Want to give your dinner a truly unique twist? This crispy pizza is sure to be a crowd-pleaser for large and small gatherings alike. Unlike a typical at-home pizza, this pie is topped with shaved Brussels sprouts and sage, giving the recipe a seasonal touch. Plus, pizza is customizable, so you can easily swap the prosciutto with a vegetarian protein such as tofu or chickpeas for a meat-free main.
5. Moist Cranberry Pork Roast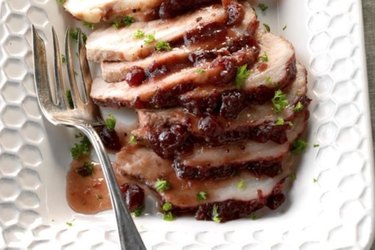 Just because you're skipping the turkey, doesn't mean you can't enjoy some cranberry sauce. This Moist Cranberry Pork Roast is the perfect poultry alternative and is nothing short of decadent thanks to the honey- and orange zest-spiked sauce — but it does takes some time to make. It requires about four hours of total cook time, so plan accordingly.