Because meat is on the menu for your low-carb diet, you may assume sauces and gravies are, too. But traditional thickeners for rich, creamy gravy are flour, cornstarch or arrowroot flour, which have 6 to 7 grams of carbs per tablespoon. With a little kitchen finesse, you can enjoy a thick gravy to moisten up turkey breast, steak or roast chicken without using starch and blowing your low-carb diet.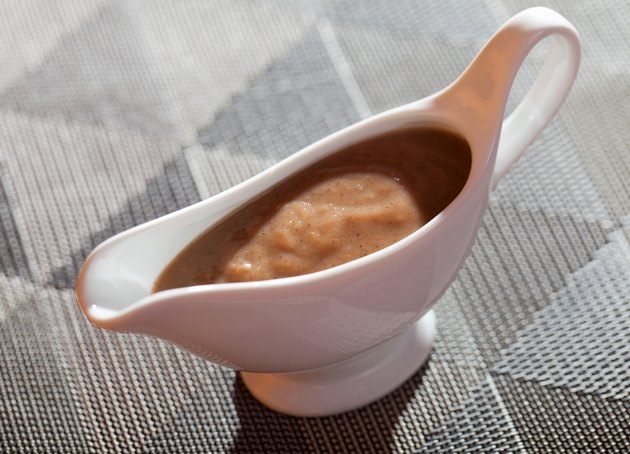 Reduce and Add Butter to Thicken Gravy
Reducing a sauce or gravy allows it to naturally thicken as the flavors concentrate. When you roast or sauté meats, poultry or fish, the bits of cooked meat and drippings in the pan form the base for a rich gravy. Add a splash of red wine or balsamic vinegar and cook over low heat as you scrape up this food. Add a little broth and cook down until the gravy has a denser texture. Finish with a pat of cold butter, which -- as it melts -- further thickens the gravy.
Reduction requires patience, but it's a nearly carb-free way to make a thick, flavorful gravy.
Add Vegetable Products
Pureed vegetables naturally thicken gravy. Be sure to use low-carb options, such as steamed cauliflower -- with 1 gram of net carbohydrate per 1/4 cup -- or butternut squash with 4 grams of carbs per 1/4 cup. Cauliflower is relatively bland and will take on the flavors of the ingredients in the gravy, while butternut squash is slightly sweet and nutty. Experiment with other veggies, too. Steamed eggplant and zucchini are relatively mild and appropriate for gravies with a tomato base.
Vegetable gums don't sound super tasty, but they thicken gravy without any detectable flavor. They have 0 gram of net carbohydrate -- the total carb grams left after you subtract fiber grams. Examples include guar gum and xanthan gum, which you can find in specialty health food stores or with an online retailer. Add only a pinch or two at a time when using them to thicken gravies. They can quickly turn your sauce into a gelatinous, slick mess.
Thicken Gravy With Low-Carb Dairy
Thick dairy products, including sour cream, cream cheese and cream, add richness to a low-carb gravy. Cream cheese has a noticeable, tangy flavor but does a great job of thickening with 1 gram of net carbohydrate per tablespoon.
Sour cream is tangy and can curdle if added during the cooking process. Add it to warm gravy that you've removed from the heat for less than 1 gram of net carbohydrate per 2 tablespoons.
Cream mellows out the flavor of a gravy. Add it as the sauce cooks down -- cream thickens considerably when reduced, more so than most other liquids. One tablespoon of cream has trace carbohydrates.
Experiment With Coconut Cream
Coconut cream may not be the flavor you're after for a gravy to go with Thanksgiving turkey, but it can add richness and mouthfeel to a gravy with curry or Thai spices. Add it during the cooking process, and let it reduce slightly to create the consistency you're after.
Don't confuse coconut cream with sweetened coconut cream that's used to make tropical drinks. Unsweetened coconut cream is thick, rich and only a little sweet. It has 2 grams of net carbs per 1/3-cup serving.