Trader Joe's released their pumpkin products this week and we are so here for it. And while the beloved pumpkin season certainly has room for the occasional bowl of pumpkin ice cream or a pumpkin waffle, there's also plenty of festive fall favorites that aren't jam-packed with fat and sugar.
Here, dietitian Isabel Smith, RD, shares healthier picks for your next TJ's haul so that you can get into the spirit of the season — without the crash and burn that comes with a sugary PSL.
1. Harvest Chili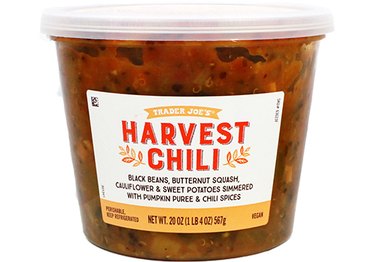 Per 1 cup: 140 calories, 5 grams fat (0 grams saturated fat), 680 milligrams sodium, 20 grams total carbohydrates (5 grams fiber, 4 grams sugar), 5 grams protein
This ingredient list is a stand-out, predominately featuring beans veggies, lentils, herbs and spices… and of course, pumpkin. We're especially a fan of this product because it contains the actual squash so you're reaping some of the nutritional benefits. Pumpkins are low in calories and high in fiber, as well as vitamins A and C. Plus, this preservative-free chili is loaded with fiber-rich black beans, which are great for gut and heart health, says Smith.
2. Pumpkin Butter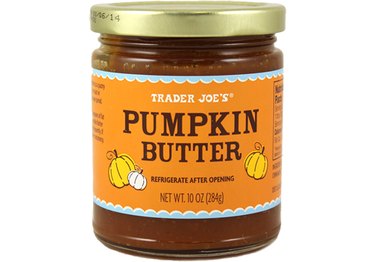 Per 1 tablespoon: 40 calories, 0 grams total fat (0 grams saturated fat), 0 milligrams sodium, 10 grams carbohydrates (0 grams fiber, 9 grams sugar), 0 grams protein
Move aside raspberry jam and grape jelly because we're loving pumpkin butter for fall. Don't be mistaken by "butter" in the name — this TJ's product presents more as a fruit spread — but the flavor combining pumpkin, sugar, honey, lemon, cinnamon, cloves and ginger is delightfully sweet and spicy. Mix this with almond butter for a well-balanced snack or add it to your batter when baking for a drop of natural sweetness, recommends Smith.
3. Pumpkin Spice Rooibos Tea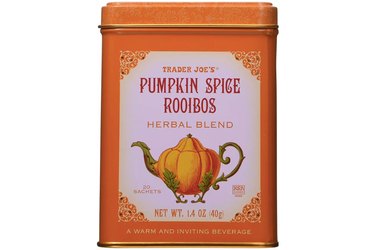 Per tea bag: 0 calories, 0 grams of total fat, (0 grams saturated fat), 0 milligrams sodium, 0 grams carbohydrates (0 grams of fiber, 0 grams sugar), 0 grams protein
The epitome of fall, this pumpkin-flavored tea soothes the soul and packs a lot of health benefits to boot. Tea is a solid source of anti-inflammatory antioxidants and possesses antibacterial and antiviral properties, according to Smith. That's why it just might be the perfect beverage to help keep the cold symptoms at bay. This caffeine-free variety contains cinnamon for a delightfully fragrant flavor.
4. Autumnal Harvest Soup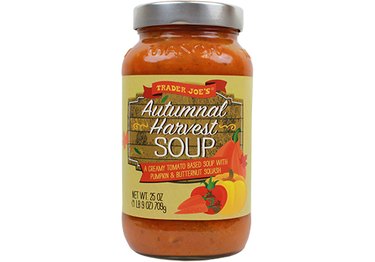 Per 1 cup: 150 calories, 8 grams total fat (4.5 grams saturated fat), 790 milligrams sodium, 20 grams carbohydrates (4 grams fiber, 11 grams sugar), 3 grams protein
Soup's on the menu this autumn — and thanks to TJ's, you don't have to stand over a hot stove for hours to get your fix. Toss in some cooked chickpeas for a complete meal or use this as a side dish. This yummy soup combines pumpkin, carrots and butternut squash — all of our fall favorites — and supplies a slew of immune-boosters like vitamin C and beta carotene, says Smith.
5. Organic Pumpkin Spice Granola Bark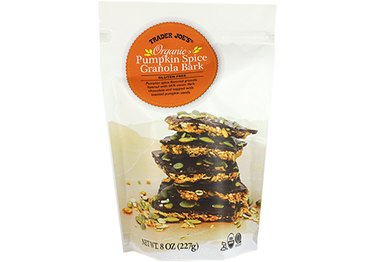 Per 1.5 pieces: 150 calories, 6 grams of fat (2.5 grams of saturated fat), 45 milligrams of sodium, 20 grams of carbohydrates (2 grams of fiber, 6 grams of sugar), 4 grams of protein
Made with flavanol-rich, heart-healthy dark chocolate, this pumpkin spice granola bark will satisfy your sweet tooth the right way. At a mere 6 grams of sugar, this bark won't break the sugar bank as long as you stick to a single serving. Plus, rolled oats and quinoa provide fiber while nuts and seeds offer healthy fats to keep your belly happy until your next meal, says Smith.
6. Pumpkin Spiced Pumpkin Seeds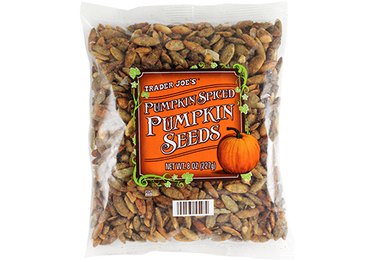 Per 1/4 cup: 170 calories, 11 grams of total fat (2.5 grams of saturated fat), 85 milligrams of sodium, 16 grams of carbohydrates (1 gram of fiber, 12 grams of sugar), 5 grams of protein
You get double the pumpkin-y goodness with these pumpkin-spice-flavored pepitas. Crunchy, sweet and savory, these seeds cover all the bases. Just be careful not to overindulge since pumpkin seeds contain a lot of (albeit healthy) fat. Smith recommends sprinkling just a few of these tasty pepitas on your salad or oatmeal.
Additional reporting by Kelly Plowe.