Dieting isn't just about eating healthy -- it's about finding foods that fit into your busy lifestyle. Shakes and smoothies offer a convenient option, and because you can make virtually limitless varieties, you won't get bored. The best low-carb, high-protein shake is one you make at home. This keeps your diet affordable, and you can also control the ingredients and portion size. But if you're in a bind, reach for a packaged low-carb meal replacement shake to get your protein.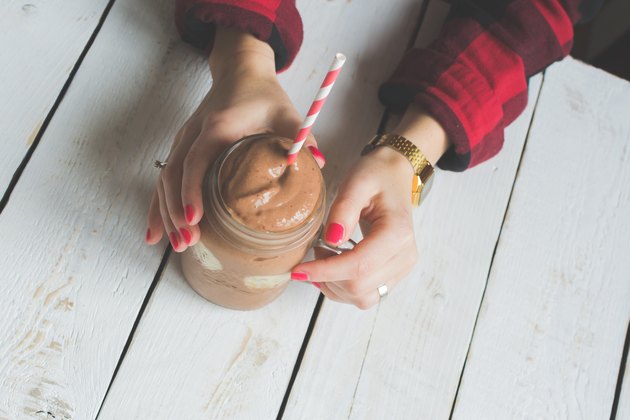 Start With a Low-Carb Base
A liquid base makes up the majority of your shake, so you'll want to choose a low-carb one. Dairy milk is a moderate source of carbs, at about 12 grams per cup. It might work in more permissive diets, but it's likely to blow your carb budget in you're following a very-low-carb diet, such as one that allows just 20 grams of carbs each day. Give your shake a creamy texture -- without the carbs -- by using unsweetened soy milk. It has just 4 grams of total carbohydrates, and one of those grams comes from fiber, leaving 3 grams of digestible "net" carbs per cup -- and it also supplies about 7 grams of protein. If you're looking for a refreshing smoothie, use green tea as the liquid base -- it's both calorie- and carb-free.
Make it High-Protein
Blending a protein supplement into your shake allows you to pack in tons of protein without adding many carbs. One variety of whey protein supplies just 7 grams of carbs but packs in 26 grams of protein, and other protein powders may have even less sugar and carbs per serving.
Some protein powders may contain more carbs than you think, however. One commercially available soy protein powder, for example, has 19 grams of net carbs, making it difficult to fit into most low-carb diets. Always check the nutrition label to pick a protein with minimal carbs. The nutrition info for each powder will differ, depending on the brand and variety you choose.
If protein powder's not your thing, power up your low-carb shake with Greek yogurt. Each container has just 6 grams of net carbs, but it provides 17 grams of protein. Just steer clear of flavored Greek yogurts, since most contain added sugar.
Add Flavor Without Carbs
Your typical smoothie recipe includes a cup or two of fruit -- but if you're eating low-carb, eating so much fruit might make it difficult to stay within the recommended carb intake. Instead, flavor your smoothie with lower-carb options. Blend in a tablespoon of unsweetened cocoa powder -- you'll get tons of chocolate flavor but just 1 gram of net carbs. Use peanut butter to add richness to your shake -- 2 tablespoons will add 7 grams of protein but just 6 grams of net carbs. If your shake tastes too bitter for your liking, add a packet of stevia -- a natural sweetener that has just 1 gram of net carbs per packet.
Low-Carb Protein Shakes on the Go
Even though a shake takes just a few minutes to prepare, sometimes that's a few minutes too many. If you know you have a stressful week ahead, prepare and freeze your smoothies in advance -- simply place one in the fridge to thaw overnight, so it's all ready to go the next day.
And while homemade smoothies are the best, you can also reach for commercially available low-carb shakes to avoid breaking your diet. These shakes can be incredibly low in carbs -- one commercially available variety has just 2 grams of net carbs per serving, and supplies 15 grams of protein. If you're dealing with hunger pangs and you can't access a homemade smoothie, picking up a store-bought low-carb shake is the best option.