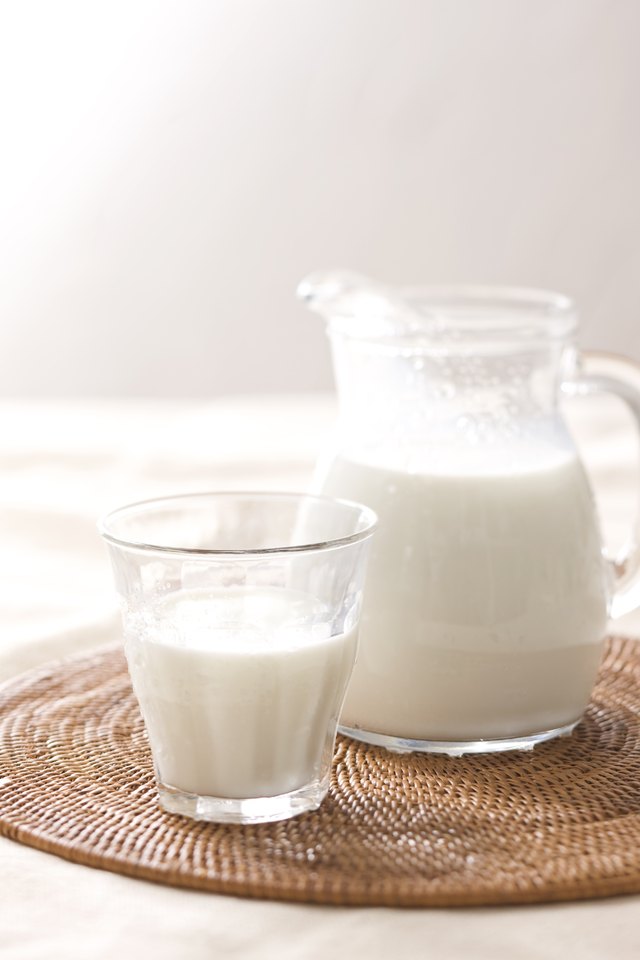 Packed with protein, vitamins and minerals, milk offers a lot of nutritional value to any meal plan. And while milk is also a source of carbs, you don't necessarily need to blacklist it when you're following a low-carb diet plan. Just opt for lower-carb options, like plain unsweetened milk, or make your own flavored milk at home to avoid sugary store-bought varieties.
Nutrients and Carbohydrates in Milk
Milk has a well-rounded nutritional profile -- it has a healthy mix of carbohydrates, proteins and, depending which type of milk you choose, fats. Plain, unsweetened cow's milk is your best bet when you're following a low-carb diet. It has 8 grams of carbohydrates per cup, all of which come from its naturally occurring sugars. You'll also get other essential nutrients for good health, including calcium -- a mineral that's essential for bone health and nerve function -- plus vitamin B-12, which supports oxygen transport to prevent fatigue-inducing anemia.
Sweetened milks, like chocolate milk, have all the same beneficial vitamins and minerals as plain white milk, but they also have a lot more carbs. A cup of chocolate milk, for example, has 26 grams of total carbohydrates, including 2 grams of dietary fiber.
The Benefits of Milk for a Low-Carb Diet
While even plain milk isn't carb-free, it offers several benefits if you're following a low-carb diet. Milk supplies 8 grams of protein per cup and, because it's a complete protein, it supplies all the amino acids required to maintain lean muscle, support your immune system and keep your other cells and tissues strong and healthy. Dairy proteins are especially good sources of essential amino acids, according to a study published in the Journal of Food Science in 2015. That's because they're absorbed and transported to your cells and tissues quickly and easily, so your muscles have rapid access to the amino acids they need to grow. Protein also has a high thermic effect -- that means it takes a lot of calories to digest, which boosts your metabolism -- and it keeps you full, so you may find it easier to stick to your diet.
Surprisingly, milk's carbohydrate content might also offer some benefits if you're trying to stay active on your low-carb diet. Your muscles rely on stored carbohydrates for quick energy during your workouts, so you may feel more fatigued if you're working out without eating any carbs. Drinking milk before your workout supplies your muscles with the carbs you need to power through a tough workout, so your muscles can stay strong and lean as you lose weight.
Making it Work in a Low-Carb Diet
How well milk fits into your diet depends on the type of low-carb diet you follow. If you're following a very restrictive low-carb diet, it'll take some planning to include milk in your meal plans. Phase One of Atkins 20, for example, allows just 20 grams of net carbs -- total carb content minus fiber content -- each day. Because a single cup of milk contains 8 grams of net carbs, you'll need to severely restrict the carb content of the rest of your meals to stay within the recommended limit. And sweetened milks are out of the question entirely -- a single cup of chocolate milk already contains more than the entire daily carb limit on this type of low-carb diet.
If you're following a more permissive low-carb diet -- one that allows 40 or more grams of carbohydrates per day -- you should have no problem fitting unsweetened white milk into your daily meal plan. Chocolate milk and other flavored milks, though, may still pose a problem, since one serving will still take up a significant part of your carbohydrate allowance for the day.
Keeping Milk Low in Carbs
Store-bought chocolate milk and flavored milk might be high in carbs, but you can make your own lower-carb versions at home. Cocoa powder can infuse your milk with intense chocolatey flavor, and a teaspoon has less than half a gram of carbs. Because cocoa can be bitter, add a drop or two of stevia to sweeten your drink without adding a lot of carbohydrates.
You can make other low-carb flavored milks, too. Add a teaspoon of vanilla extract to your milk -- it has just 0.5 gram of carbs per serving and adds creamy flavor to your glass. Or blend your milk with two or three large strawberries and a sprinkle of cinnamon -- each berry has just 1 gram of net carbs, and cinnamon is virtually carb- and calorie-free.