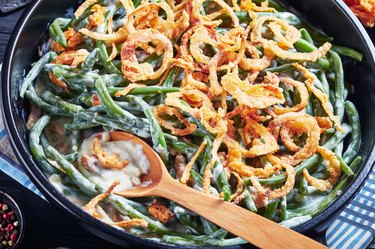 Stovetop green bean casserole is a classic comfort food favorite. It is also a great source of vegetables and fiber. If you are interested in meal prepping, consider a make-ahead green bean casserole. This will save you time on making fresh meals every night, and it can aid in your health goals.
There are several options when it comes to a make-ahead green bean casserole. You can make it in the oven, on the stove or buy it from the store. You can also freeze the recipe prior to cooking, so you only have to defrost and cook it when the time comes. Alternatively, you can divide the recipe into ready-to-eat portion sizes or freeze the entire casserole for later.
Green bean casseroles are a great way to increase your vegetable intake. According to the USDA's Choose My Plate, green beans can count as either a vegetable serving or a protein serving for people who consume little or no animal protein. They recommend beans and peas for everyone.
Green Bean Casserole Ingredients
Green beans are the star of this recipe. According to the USDA, cooked green beans are low in calories yet high in nutrients. One cup contains 38 calories, 4.1 grams of fiber, 2 grams of protein and 43 percent daily value (DV) of vitamin K.
Though green bean casserole recipes may vary, the staple ingredients include:
Green beans
Onion
Mushrooms
Olive oil
Herbs and spices
Butter or cream soup
Many green bean casserole recipes call for an ingredient like skim milk, butter or creamy soup. A cream of mushroom or cream of chicken soup can be used. This ingredient adds a creamy texture to the casserole.
According to the Mayo Clinic, swapping out the creamy soup for a homemade white sauce helps cut back on the high sodium content in canned soups. Mayo Clinic's recipe yields just 78 calories per 2/3 cup, which may be beneficial for people following a low-calorie diet.
Green bean casseroles are often vegetarian-friendly. To make this dish vegan, omit the dairy products and use non-dairy butter, milk or cream instead. Some casserole recipes also contain semolina flour and bread crumbs. Omit these ingredients if you follow a gluten-free diet.
Stovetop Green Bean Casserole
One of the best cooking tips is to invest in a high-quality cast-iron pan. To make stovetop green bean casserole instead of baking it, you will need a large skillet. A cast-iron skillet is a popular pan for stovetop casserole recipes.
Similar to baking your make-ahead green bean casserole, the stovetop version requires the basic ingredients. However, there is less equipment involved in this cooking method.
Things You'll Need
1 pound green beans

2 slices whole wheat bread

1/4 cup parsley

3 tablespoons olive oil

1/2 teaspoon garlic

6 tablespoons Parmesan cheese

1/2 cup onion, chopped


4 ounces sliced mushrooms

1 1/2 tablespoons flour

1/2 cup vegetable or chicken stock

1/2 cup low-fat milk or nondairy alternative

2 tablespoons sherry

1/2 teaspoon salt

1/4 teaspoon pepper

1/8 teaspoon nutmeg
Boil green beans in a large pot for three minutes; then set aside.
Pulverize bread, parsley, oil, garlic and 2 tablespoons of cheese in a food processor to create a breadcrumb mixture.
In a separate pan, fry onions and mushrooms in olive oil. Saute for eight minutes.
Add flour, stock, milk and sherry to the pan and stir until combined. Bring to a simmer and cook for three minutes.
Remove from heat and stir in the green beans, the rest of the cheese, salt, pepper and nutmeg.
Sprinkle evenly with the breadcrumb mixture.
Broil for two minutes if desired.
Store-Bought Green Bean Casserole
An alternative to homemade make-ahead green bean casserole is buying one premade from the grocery store. Though homemade comfort foods like casserole may contain healthier ingredients and stronger flavors, a frozen green bean casserole is time-saving and cost-effective.
A store-bought green bean casserole contains similar ingredients to a homemade version: green beans, onions, mushrooms, butter and spices. According to the USDA, the nutrition facts for a 1/2-cup serving of store-bought casserole include:
180 calories
2 grams of protein
13 grams of fat
13 grams of carbohydrates
1 gram of fiber
480 milligrams of sodium
Whether you buy a prepared green bean casserole or make your own stovetop version, this popular dish is a great way to plan your meals in advance. It is also an effective way to help you meet your daily recommended vegetable servings.