Green bean casserole is a flavorful side dish that is well suited for the holidays. The dish works well with almost any main course, making it a flexible vegetable dish. The recipe takes plain green beans to a different level with added mushroom and onion flavors and a creamy texture. The casserole also works well if you prepare it ahead of time. By mixing up the ingredients the day before, save yourself time when you're throwing a holiday meal or dinner party.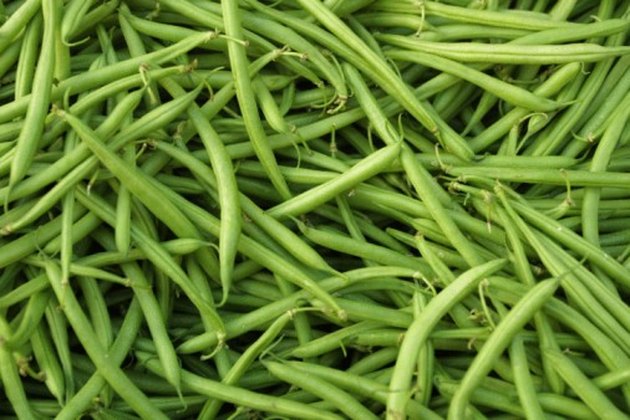 Step 1
Drain two cans of green beans, thaw 18 oz. of frozen green beans or cook about 1 1/2 lbs. of fresh green beans. Pour the green beans into a large, greased casserole dish.
Step 2
Empty a can of cream of mushroom soup into the casserole dish. Add 1/4 to 1/2 cup of milk and stir to create the desired consistency. Stir in half of a 2.8-oz. can of French fried onions. Season the bean casserole with pepper and garlic powder to taste.
Step 3
Stir in other flavorings to customize the casserole, such as 1 tsp. of soy sauce or 1/2 cup of processed cheese spread. Stir in bacon, peppers or other ingredients for additional flavor.
Step 4
Cover the casserole dish with plastic wrap or aluminum foil. Store the casserole in the refrigerator until you are ready to cook it. Cook the casserole within a day or two for the best flavor.
Step 5
Remove the casserole from the refrigerator and take off the cover when you are ready to cook it. Bake the vegetable casserole for about 45 minutes so the cold ingredients have plenty of time to heat through completely. Sprinkle on the leftover fried onions and bake for another five minutes to make them crispy.
Things You'll Need
Green beans

Cream of mushroom soup

Milk

Pepper

Garlic powder

French fried onions
Tips
Use a different flavor of cream soup instead of the cream of mushroom for variety.