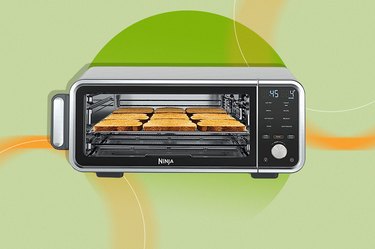 As a busy mom of a toddler, I'm all for kitchen tools that make it easier (and quicker) to craft tasty, nutritious meals. That's why after much debate, I went ahead and pressed the purchase button on a Ninja 8-in-1 Digital Air Fryer Oven, which has quickly become my kitchen countertop soulmate.
Busy or not, I love to cook and create delicious meals for myself and my family to enjoy. That's why I went in search of a countertop oven that could do more than just bake and toast — and after some research, I'm so glad I landed on this Ninja appliance.
There are plenty of fish in the sea, as there are kitchen tools on the market. But when it comes to spending your hard-earned cash on one, it's probably best to go with an appliance that performs more than just one function. (Counter and cabinet space are precious, after all.)
The days of single-function kitchen appliances may be behind us as more brands create products that keep creative cooks, busy people and those who hate doing dishes in mind. Countertop ovens (or toaster ovens) are super convenient because they bake, toast, roast and broil. Bonus: Because they're much smaller than your regular kitchen oven, they take less time to heat up and therefore use less energy, according to Energy Star.
The Ninja 8-in-1 Air Fryer Oven With Extended Height has several functions and features to brag about. After having one for a few months, here's what I loved the most:
Perhaps the best part of the Ninja 8-in-1 Air Fryer Oven is that this one device eliminates the need for a separate air fryer, toaster, toaster oven and dehydrator.
It includes a Bagel function for perfectly toasted bagels, a Broil function for higher-temp cooking jobs and a Keep Warm function, which offers you a place to keep dishes warm until you're ready to eat.
This air-fryer oven comes with an air fryer basket and baking sheet that are both large enough to fit an entire dinner for two. In fact, I frequently cook up sheet-pan dinners for myself, my husband and our little one (which, OK, is more like two and a half people).
If you're like my husband, you'll enjoy that this device will allow you to bake a 13-inch pizza with topping combinations only you could devise, and toast up to nine slices of bread.
As far as kitchen tools go, this appliance is much more pleasant on the eyes than most. Yes, the extended height makes it bigger, but the sleek rectangular shape and digital display make it a great countertop addition if you have the space.
You control the appliance with the chrome dial which easily turns, allowing you to choose the feature you're trying to use and then set the specific settings you need. I love that the toasting function allows you to choose your toast shade and number of slices for more precise toasting.
And if you're like me, you'll also love that when you press the start button, the device will display a countdown telling you how long until your toast is done. Some call it impatient, but I like the anticipation.
Get Your Ninja Air Fryer Oven
Making healthy meals has been so much simpler since I purchased the Ninja 8-in-1 Air Fryer Oven, and I love how creative it's allowed me to get in the kitchen. Now, I'm experimenting with creating different textures and tastes with all the cooking functions, and combinations, I've been introduced to.
And according to Amazon reviews, other home chefs agree: The Ninja 8-in-1 Air Fryer Oven With Extended Height might be one of the most useful additions to your (or someone you love's) kitchen.
Buy It
‌My Version (Model SP201):‌ Amazon ($259.99)
‌The Newest Version (Model SP 301)‌: Target ($299.99)
‌An Older Version (Model SP101):‌ Bed Bath and Beyond ($159.99 — 33% off while supplies last)
What to Make in Your Ninja Air Fryer Oven
To give an example of how I like to use my Ninja Air Fryer Oven: One weeknight meal that makes our menu each week is a quick oven-baked salmon with russet potatoes and Brussels sprouts.
I like to bake a salmon fillet seasoned with freshly mashed garlic, dried oregano and parsley, some olive oil, sea salt and pepper at 350 for about 12 minutes, take it out of the oven and drizzle on a bit of honey, then put it back in and set the broiler for about 5 minutes. The glazed finish on the salmon with a final squeeze of fresh lemon juice and a sprinkle of minced fresh parsley is drool-worthy!
I serve this salmon alongside roasted veggies (garlicky seasoned red potatoes and Brussels sprouts — yes, I love garlic) which I bake in my kitchen oven at 400 for 25 to 35 minutes, depending on the veggie. I usually put these in first so they're done cooking at the same time.
Now that you're armed with the tools, put your countertop oven to work with these recipes: