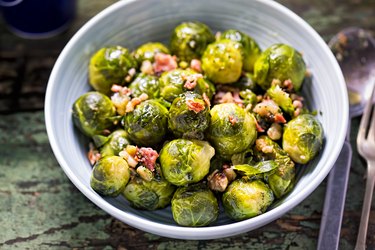 You might not have liked the slightly bitter green veggie when you were growing up, but Brussels sprouts totally deserve a place in your diet these days. While folks usually enjoy them roasted (they get that nicely charred, crispy texture), there are many other ways to enjoy the veggie and reap the benefits.
"Brussels sprouts are high in vitamins B6, C, K, and folate, and also contain unique anti-cancer antioxidants called glucosinolates found in the cruciferous vegetable family," Ginger Hultin, RDN, CSO and spokesperson for the Academy of Nutrition and Dietetics, tells LIVESTRONG.com.
Plus, you can use them in so many ways to boost flavor and nutrition. "They are a very versatile vegetable so consider shredding them into a slaw or winter salad, sautéing them or even grilling them for a unique and unexpected flavor," she says.
To load up on their health benefits and spice up your veggie game, it might be time to step outside your comfort zone and try these delicious Brussels sprouts recipes.
1. Brussels Sprouts Tater Tots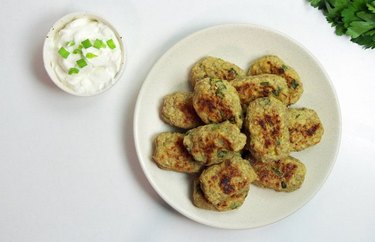 Love tater tots but don't love how high they are in carbs and fat? Well, these tots are healthier than your average and have tons of nutrients from the Brussels sprouts to keep you satisfied with fewer calories and fat.
"Compared to potato-based tater-tots, making them with shredded Brussels sprouts will increase the side dish's fiber and antioxidant content while reducing the carbohydrate content if you're on a lower-carb diet," Hultin says, adding that the Brussels sprouts will offer a unique flavor to these tots.
2. Chopped Pork Loin With Wild Rice, Sweet Potato and Shredded Brussels Sprouts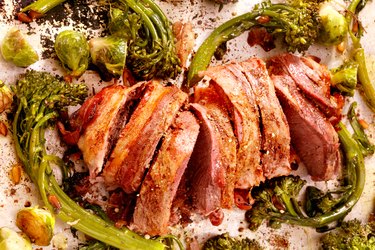 "I love the idea of 'chopping' Brussels sprouts in a food processor. That takes so much work out of having to chop them with a knife," she says. And who doesn't love and appreciate a short-cut when cooking, right?
"Shredding Brussels sprouts creates an easy way to incorporate them with other ingredients like the sweet potatoes and wild rice in this recipe," Hultin says. This pork dish would be great for the holidays this year, as it's packed with seasonal flavors.
3. Cruciferous Trio with Peanut Ginger Lime Dressing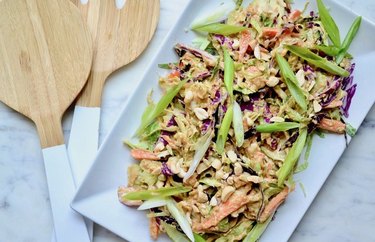 Consider this a way healthier order than standard Thai or Chinese takeout. This Brussels sprouts salad makes the perfect side or main meal with the addition of protein, like tofu, chicken or shrimp.
"This cruciferous slaw will pair very well with the rich peanut dressing," Hultin says, which is nice and creamy to balance out that crunch from the chopped Brussels sprouts. "Peanut, ginger and lime are flavors that help complement the stronger flavor of these veggies while benefiting from the incredible nutrients in all of these ingredients including vitamins, minerals and antioxidants," she adds. And that's a total win-win.
4. Brussels Sprouts With Bacon and Dried Cherries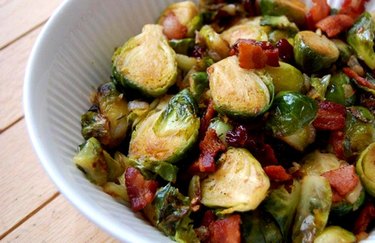 These sprouts taste amazing when paired with sweet yet tart dried cranberries and crispy bacon for a nice balance of savory and sweet. Plus, they get a nice char, which increases the flavor profile, making them more caramelized and indulgent-tasting.
By pairing with a protein, like fish, you'll boost satiety factor, so you can stay fuller longer and have a complete meal, Hultin says. Just imagine how delicious this would be for Thanksgiving or Christmas dinner!
5. Brassica and Leek Salad With Green Goddess Vinaigrette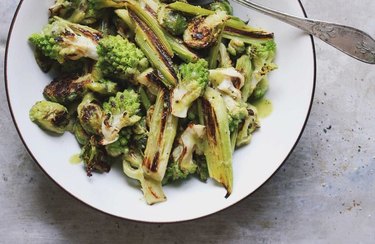 Brussels sprouts and leeks taste great together, and this citrusy, green goddess vinaigrette adds that bit of zest to amp up the flavor profile of the dish. Plus, it takes just 30 minutes to whip up, deeming this a great option for a quick dinner on a busy weekday.
Feel free to add in extras like almonds or cashews for crunch and dried cranberries or dates for a bit of sweetness.
6. Simple Steamed Brussels Sprouts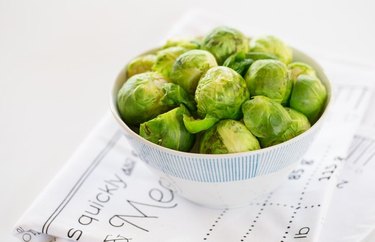 Steaming the sprouts keep them simple and healthy. An added benefit: They can take on any flavors you have in mind: ginger, garlic, peanut, sesame, maple, honey and cayenne all work.
"This is a very simple recipe that requires minimal time and preparation. In addition to olive oil, salt and pepper, you could add herbs and spices like red pepper flakes, garlic powder or rosemary," Hultin says. Add in nuts for healthy fats and pair with protein, like fish, grass-fed beef or chicken for some good protein to make it a complete meal.