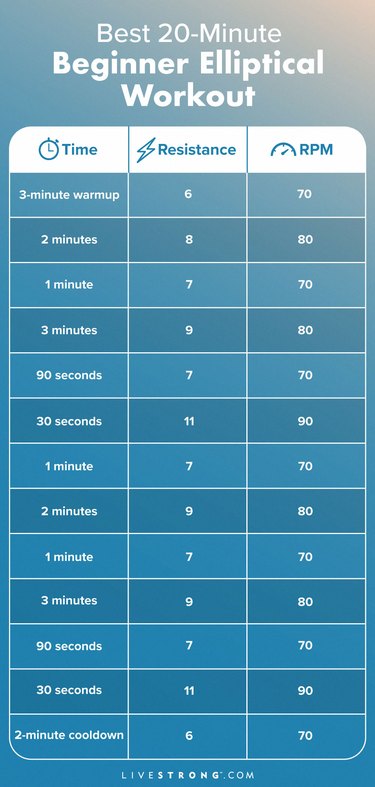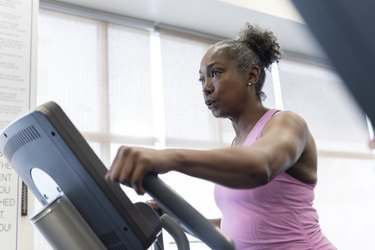 When you're new to working out and deciding where to start, you may find yourself overwhelmed by choices. Should you walk or run, or do something else entirely? Maybe you're not ready (or don't want) to run, but also want an alternative to walking. Enter the elliptical.
The elliptical is an excellent choice for beginners because it is low impact, which means it puts less stress on muscles and joints. In fact, a small July 2022 study in the ‌Journal of Strength and Conditioning Research‌ found that the elliptical reduces muscular effort up to 60 percent when compared to running on a treadmill.
And just because the elliptical is low impact doesn't mean it can't create a similar heart rate response as other, higher impact options — cardio does not have to be high impact to be effective. And if you use the moving handles as opposed to the stationary handles to involve your arms, you will add even more intensity to this workout.
Try this beginner 20-minute elliptical workout next time you're at the gym. You'll use varying resistance and RPM (revolutions per minute) to break a sweat. If the suggested resistance doesn't feel challenging enough for you, increase the resistance while using the suggested RPM.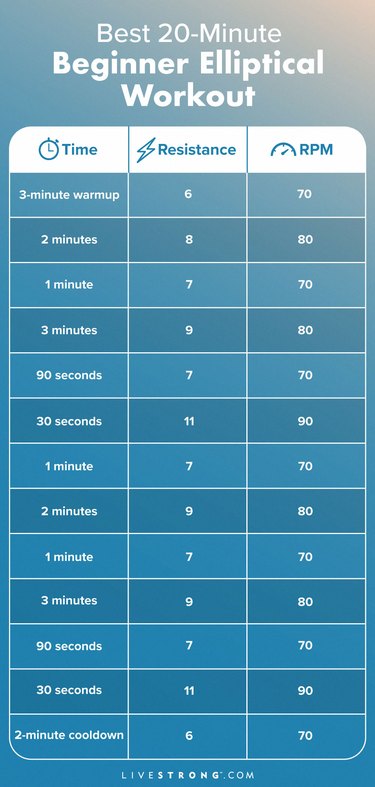 20-Minute Beginner Elliptical Workout
| Time | Resistance | RPM |
| --- | --- | --- |
| 3-minute warmup | 6 | 70 |
| 2 minutes | 8 | 80 |
| 1 minute | 7 | 70 |
| 3 minutes | 9 | 80 |
| 90 seconds | 7 | 70 |
| 30 seconds | 11 | 90 |
| 1 minute | 7 | 70 |
| 2 minutes | 9 | 80 |
| 1 minute | 7 | 70 |
| 3 minutes | 9 | 80 |
| 90 seconds | 7 | 70 |
| 30 seconds | 11 | 90 |
| 2-minute cooldown | 6 | 70 |