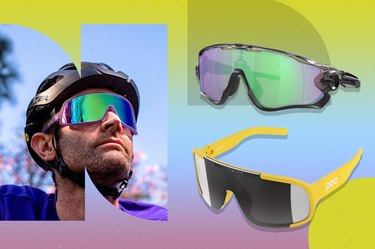 If you're getting on a bike for an interval workout, a leisurely ride around the neighborhood or your morning commute, you'll need a pair of cycling sunglasses.
After your helmet, they're one of the most essential pieces of safety gear. Sun protection is critical to eye health, even on cloudy days, per the National Eye Institute, and a good pair of shades can help with visual clarity and depth perception. And the better you can see, the safer you'll ride.
However, choosing the right pair of cycling sunglasses can be overwhelming, considering the hundreds of available options and vast differences in price. To help you narrow your search, we identified the top-performing pairs in ten categories.
We talked to a handful of cyclists — including competitive triathletes and gravel riders, mountain bikers, road cyclists, coaches and bike commuters — to determine what you should consider when shopping for a pair of cycling sunglasses. Taking into account their recommendations, we chose the best ten pairs based on the following criteria. You can learn more about how we cover products here.
Lens type and clarity
UVA/UVB protection
Comfort
Fit
Coverage
Durability
Style
Cost
1. Best Overall: POC Aspire
‌Polarized:‌ Yes
‌UV protection:‌ Yes
‌Materials:‌ Plastic
"I like the Aspire because they provide a huge amount of coverage on the front. And they're super clear," he says. Seacat primarily rides on gravel and trails, so clarity is critical. "It's important that you don't have a bunch of shade or sunblocking. You want a lighter tint because you need to be able to pick up the shadows to see where rocks, tree stumps and things of that nature are," he explains.
POC offers the Aspire in a variety of colors and lenses for different environments, so they suit urban commuters and diehard mountain bikers alike. And the oversized design is slick enough to look cool even when you're not in the saddle.
2. Best Budget: Goodr Look Ma, No Hands
‌Polarized:‌ Yes
‌UV protection‌: Yes
‌Materials:‌ Nylon
The price of cycling gear adds up quickly, so if you'd prefer not to blow your budget on a pair of shades, check out Goodr's inexpensive and cheerful cycling sunnies.
"One that can't be overlooked is 'Look Ma, No Hands' from Goodr. I've used those a decent amount," Seacat says. They're comfortable, polarized and have a playful look that's less severe than other brands. "But for the price, those glasses are nice to use because there's not a fear of losing them. You're not out hundreds of dollars," he says.
Just don't expect them to hold up for as long as pricier pairs, Seacat warns. "They don't last forever, and the coating does wear off after a year or two," he says.
3. Best for Road Cycling: Roka Matador Air
‌Polarized:‌ Yes
‌UV protection:‌ Yes
‌Materials:‌ TR-90 Nylon
The Matador Air from Roka was made for roadies. They're ultralight, ventilated and slip-resistant, thanks to Roka's signature GEKO Grip, which makes the customizable nose pads (one pair comes with four different sizes) and temples stay in place no matter how sweaty you get.
Among reviewers, the Matador Air gets props for its wearability and performance. "They stay put during all-out sprints. The comfort, clarity and field of vision are so great. I forget I have them on," one reviewer wrote. Another reviewer noted that the lenses "filter light well" and "highlight yellow and white strips of road."
Cyclists who opt for the Matador Air also have the option to purchase up to seven additional interchangeable lenses.
4. Best for Mountain Biking: Oakley Jawbreaker
‌Polarized: ‌Yes
‌UV protection:‌ Yes
‌Materials:‌ Nylon
The goggle-like Jawbreaker sunglasses by Oakley will shield your eyes from dirt, debris and anything else your tires kick up on the trail, thanks to their large lens front. "They're probably one of the best all-around sunglasses with a bunch of protection, and that upper frame can wick sweat away from your eyes," Seacat says.
The Jawbreaker's lenses (available in polarized, non-polarized and clear) are interchangeable, so you can easily switch things up according to current light levels and terrain. And for cyclists who wear prescription glasses or contact lenses, Oakley also offers single-vision corrective lenses for an additional fee.
5. Best for Triathlons: Roka GP-1X
‌Polarized:‌ Yes
‌UV protection:‌ Yes
‌Materials:‌ TR-90 Nylon
For Todd Buckingham, PhD, exercise physiologist, triathlete and coach, the Roka GP-1X checks all the necessary boxes for competition-ready sunglasses. He's able to switch out the interchangeable lenses based on weather conditions, and the frame of the GP-1X is designed accordingly.
"It's large enough that I can see through my entire field of vision. This is especially important when riding a triathlon bike in the time-trial position because your head is usually very low, and you can only look up with your eyes and not your entire head," Buckingham says. "The Roka GP-1X are semi-rimless shield sunglasses, which means they don't have the frame at the top of the sunglasses, allowing for better visibility out of the top of my field of vision."
Other notable features include anti-slip nose pads and temples, which use Roka's grippy but not sticky GEKO technology, and the frame's protective lower rim that keeps road grit out of your eyes.
6. Best for Women: Smith Bobcat
‌Polarized:‌ Yes
‌UV protection:‌ Yes
‌Materials: ‌Plastic
Jen Kates, CPT, founder of Shift Human Performance, needs sun protection, crystal clear visibility and a good amount of coverage for mountain biking and gravel riding in her sunny home state of Colorado. "I wear contacts, so I definitely want eye coverage because of the dirt and dust here in Colorado, where it's really dry," she says. "But that can be tricky because I have a small face."
The Bobcat from Smith features a large lens surface, but the frames aren't so oversized that they bounce around or overwhelm more petite riders. "I find that the Smith Bobcat glasses fit," Kates says. "They're a little bit better for a smaller face."
She also appreciates the Bobcat's ChromaPop lens technology — Smith's take on polarization — for enhancing definition on the trail and being able to swap lenses on cloudier days.
7. Best for Men: KOO Supernova
‌Polarized:‌ No
‌UV protection‌: Yes
‌Materials:‌ Nylon
The first thing you'll notice about the KOO Supernova is how light it is. Weighing in at just 21 grams, these glasses feel like they're floating on your face. That may also have something to do with the frameless lenses, which offer excellent visibility and super-comfy customizable nose pads (KOO includes two options to accommodate differently shaped nose bridges).
While airy, the Supernova's minimalist design is also rugged enough to withstand drops, falls and being tossed in a backpack, thanks to the flexible temples and shatterproof lenses.
The Supernova is available in over a dozen color combinations, so you can make a statement or pick a pair that goes with everything.
8. Best Prescription: Rudy Project Keyblade
‌Polarized: ‌Yes
‌UV protection:‌ Yes
‌Materials:‌ Plastic
If you need corrective lenses, that automatically narrows your choices. Thankfully, Rudy Project makes cycling sunglasses you don't have to just settle for.
The Keyblade's prescription lenses are interchangeable (they easily snap in and out) and photochromic, meaning they respond to changing light conditions by getting darker or lighter.
According to reviewers, the transition is seamless. "They disappear from my thoughts when I am riding. The photochromatic works as well as ever riding out of sun and shade without notice," one reviewer wrote. "There is no second guessing shadows, the light is filtered without flaw. Crisp, detailed and true to life," another noted.
Vents that run along the tops of the frames encourage airflow and help reduce fogging and misting, so you won't find yourself constantly stopping to wipe them off.
9. Best for Coverage: Oakley Sutro S
‌Polarized:‌ Yes
‌UV protection‌: Yes
‌Materials:‌ Nylon
For Chicago-based personal trainer Wesley Showalter, CSCS, cycling is his primary mode of transportation, so he needs durable sunglasses that not only offer protection from the sun but also provide a barrier to all the other elements an urban cyclist typically encounters.
"I like the big frames that cover your entire eye because of dust and construction. It's also windy in Chicago." The Sutro S features a one-piece wrap-around lens that shields your eye area from all sorts of debris and airborne objects.
Despite their size, the Sutro S won't slip or slide during sweaty rides, an issue Showalter has experienced with other brands. And replaceable lenses are available in a variety of types and colors. "I like polarized because my eyes are very light," Showalter says.
10. Best for Style: Goodr Sunbathing with Wizards
‌Polarized:‌ Yes
‌UV protection: ‌Yes
‌Materials:‌ Plastic
Style is subjective, and trends are fleeting. But even if you only wear these frosty aquamarine sunnies for a season, it's no big deal. They're just $25, a low-risk investment for a fun accessory, and an even better price for a legit pair of cycling sunglasses.
Goodr's lenses are polarized and offer UVA and UVB protection, and the snug-fitting frames are treated with an anti-slip coating, so they won't bounce or slide during sweaty workouts. But, thanks to a versatile look that doesn't scream, "I just finished a three-hour ride," you can also sport them on your rest days.
5 Things to Consider Before You Buy
While recommendations are helpful, every cyclist's needs and preferences are unique when it comes to eyewear. Two people who ride on the same terrain in identical weather and light conditions may need completely different pairs. So, as you do your research, be sure to take the following factors into account.
The number-one pet peeve among the cyclists we surveyed was slippage. Besides feeling light and comfortable on your face, your sunglasses should stay put, even when your face is sweaty, and your head is tilted downward. (It's tough to focus on uneven terrain or a new PR when you're constantly adjusting your glasses.) Many brands use a grippy material on the nose and temple pads to help keep glasses in place.
Also, if you have a lower nose bridge, look for glasses that come with multiple sizes of interchangeable nose pads.
Long-term UV exposure is linked to conditions like cataracts and eye cancer, according to the American Academy of Opthamology. So, make sure any sunglasses you wear — cycling or otherwise — offer 99-100% UV protection or UV absorption up to 400nm. And keep in mind that just because a lens is dark doesn't mean it's protective.
Some lenses are better suited for specific light conditions and terrain. Generally speaking, for bright light or sunny conditions, you'll need a darker lens. If it's overcast, later in the day, or you're riding in the shade, a lens with a lighter tint may be suitable.
You may also want to test colored lenses. Amber or rose-tinted shades can help ease eye strain and improve clarity and depth perception in some conditions, while blue lenses can improve color perception.
Polarized lenses have been treated to filter light in a way that helps reduce glare and increase definition and clarity. Polarization tends to up the cost of sunglasses, so you may find that it's not necessary for every ride.
And if you ride in varying conditions and at different times of day? Some brands offer interchangeable lenses designed to be swapped in and out as needed. You can also look into sunglasses with photochromic lenses, which automatically adjust according to the light.
Cycling sunglasses also serve as a windshield, keeping dirt, dust, gravel, and insects away from your eyes and the skin surrounding them, which tends to be more sensitive than the rest of your face. Even if you prefer minimalist eyewear for everyday use, you may want to embrace a larger frame to help maintain a barrier between you and the elements.
Like all of your cycling gear, your sunglasses will take a beating from everyday use, so look for features like scratch- and shatter-proof lenses and break-resistant frames made with materials that hold up against sweat, like plastic and nylon. Also, while you may pay more upfront, choosing a brand that offers a warranty could save you money in the long run.
More Cycling Gear We Love