Gallbladder disease is a common digestive disorder. It is estimated over 20 million Americans have gallstones, reports the Weight-control Information Network (WIN). Gallstones are hard stones, most commonly made up of cholesterol, found in the gallbladder. They can be as small as a grain of sand or as large as a golf ball. Common treatment of gallstones involves either medication or surgery. A low-fat diet is recommended to control symptoms of gallstones, like pain and indigestion, says Medline Plus.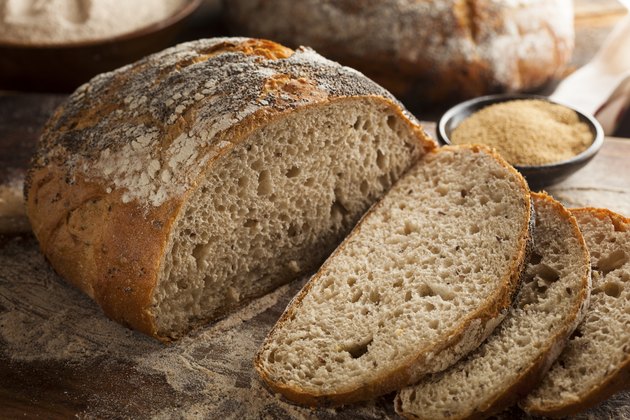 Milk and Milk Products
A regular healthy diet recommends 30 percent of calories from fat. The low-fat diet recommended for gallstones is even lower in fat, reports Jackson/Seigelbaum Gastroenterology. Fat-free milk, evaporated skim milk, and skim buttermilk are recommended on a low-fat diet. Yogurt made with skim milk is preferred, and it should have 3 grams of fat or less per 3 ounces, says Jackson/Seigelbaum Gastroenterology. Fat-free cheese, low-fat cottage cheese, part-skim mozzarella and part-skim or skim ricotta are recommended.
Breads and Grains
Breads and grains are good sources of fiber, vitamins and minerals. Most whole-grains are low in fat. Jackson/Seigelbaum Gastroenterology recommends whole grain breads and whole grain cereals while on a low-fat diet. Snack options on a low-fat diet include saltine crackers, low-fat crackers, rice cakes and unbuttered popcorn. Low-fat grain choices include plain pasta, rice, barley and oatmeal. Pancakes and French toast should be made with skim milk and egg substitute to reduce the fat content, says Jackson/Seigelbaum Gastroenterology
Fruits and Vegetables
Fruits and vegetables are naturally fat free, with the exception of avocado. Jackson/Seigelbaum Gastroenterology says all fruits and vegetables are good choices when following a low-fat diet for gallstones. They do caution on preparation of vegetables, and suggest steamed, boiled or baked vegetables without added fat.
Meats
Meats should be trimmed of all visible fat before cooking to reduce the fat, says MyPyramid.gov. Baking and broiling are recommended cooking methods for meat on a low-fat diet. Low-fat beef choices include round, sirloin, flank and tenderloin. All poultry, without the skin, is low in fat. Pork tenderloin, chops and cutlets are another low-fat meat choice. Any fish--fresh, frozen or canned in water--is allowed on a low-fat diet for gallstones. Eggs boiled or scrambled without added fat such as butter are acceptable and are a good source of protein. Luncheon meats that are at least 95 percent fat-free are recommended for sandwiches, according to Jackson/Seigelbaum Gastroenterology.
Fats and Oils
Fats and oils should be limited to 3 servings a day on a low-fat diet for gallstones, says Jackson/Seigelbaum Gastroenterology. Fat servings include 2 tbsp. of avocado; 1 tsp. of margarine or butter; 1 tbsp. of regular salad dressing; 2 tbsp. of low-fat salad dressing; 1 tsp. of olive oil; 2 tsp. of peanut butter; 2 walnuts; and 1 strip of bacon.
Sweets and Desserts
Sweets and desserts should be limited to prevent excessive calorie intake, recommends Jackson/Seigelbaum Gastroenterology. Choose sherbet made from skim milk, fruit ice or non-fat frozen yogurt for a cool low-fat treat. Vanilla wafers, graham crackers and gingersnaps are low-fat cookie-like choices. Marshmallows, jelly beans, and hard candy are fat-free sweets for the person with gallstones.