Coughing with constant phlegm is typically caused by an infection present somewhere in the respiratory tract. According to MayoClinic.com, coughing with phlegm can be caused by the common cold. People who suffer from tuberculosis or bronchitis can also experience coughing with phlegm. If coughing gets worse or contains traces of blood, contact a health-care provider.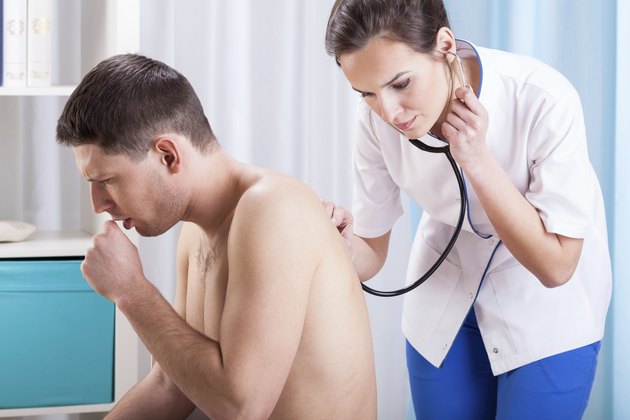 Common Cold
The common cold is a viral infection that affects the upper respiratory tract. According to MayoClinic.com, more than 200 viruses can cause a cold. A common cold is highly contagious, so any environment that contains a large number of people in a relatively small area can increase the chances of infection. Symptoms of a cold include fever, chills, coughing up phlegm, stuffy nose and congestion. Other signs of the common cold include body aches, watery eyes and fatigue. Other factors that increase the risk of developing a cold are age--children and infants are more likely to catch a cold due to a lack of immune system resistance--or having a weakened immune system. Complications of a common cold infection include developing an ear infection, pneumonia or sinusitis--an inflammation of the sinuses. Over-the-counter cough medicines and nasal spray are an option to lessen the severity of symptoms, but treatment for the common cold usually involves plenty of rest and drinking plenty of fluids.
Bronchitis
Bronchitis is an inflammation of the primary air passages to the lungs--the bronchial tubes. Bronchitis can be short-lived or chronic. According to the University of Maryland Medical Center, bronchitis typically follows a viral infection of the respiratory tract. People at risk for developing bronchitis are usually smokers; the elderly, young children or infants; or those with heart or lung disease. Symptoms of bronchitis typically include coughing that produces phlegm, shortness of breath and wheezing. Other signs of bronchitis include fatigue, chest discomfort and low fever. In certain cases, bronchitis may open the door to a pneumonia infection. Constant bouts of bronchitis should be taken seriously and can indicate chronic bronchitis, asthma or other lung disorders. Treatment for bronchitis includes rest, drinking plenty of fluids, breathing in warm, moist air and, in some cases, antibiotics.
Tuberculosis
Tuberculosis is a bacterial disease that affects the lungs. It is an extremely serious and contagious disease. Tuberculosis can be spread through tiny droplets in the air created by someone sneezing or coughing. Symptoms of a tuberculosis infection include coughing up blood or phlegm, excessive sweating and fatigue. Other signs of tuberculosis include unexplained weight loss, difficulty breathing, chest pain and wheezing. Left untreated, tuberculosis can be fatal. Certain other complications from tuberculosis include lung damage, severe pain or joint damage, or meningitis. Medications are required to treat a tuberculosis infection, and it typically requires six to nine months to completely kill the bacteria, according to MayoClinic.com.
Is This an Emergency?
If you are experiencing serious medical symptoms, seek emergency treatment immediately.