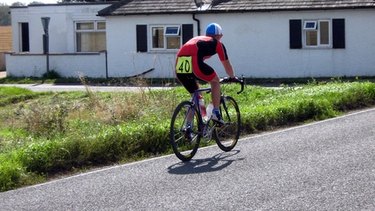 Deciding to compete in your first triathlon is exciting. To properly train for and compete in a triathlon, you will need gear for swimming, biking and running. The biking portion of the triathlon requires the most expensive gear and the vast selection of triathlon bikes can be overwhelming. The best beginner triathlon bikes have an aerodynamic, lightweight frame and quality components for a reasonable price.
Torelli Tocatta
Some beginner triathletes will simply convert a road bike into a triathlon bike by adding a few accessories. Others will choose a triathlon bike that can also be used for every day recreation. According to Smart Cycles, the best all-around bike for beginner triathletes is the Torelli Tocatta. The Tocatta frame is lightweight—weighing only 18 pounds—and provides an efficient and comfortable ride. Available in 16 different sizes, there is a Tocatta for every body type. Choose the right bike for your body size to maximize your power transfer during the triathlon.
Trek Equinox 7
Trek is recognized as a leader in the cycling industry and the Equinox 7 is one of the best buys for a beginner triathlon bike. The 9-speed drive train gives you versatility and the ability to select different gears based on the riding course. Aero bars and tubes increase the aerodynamics of the bike, making it easier to maintain top speeds during the triathlon. The Equinox 7 also comes equipped with Bontrager Aeros wheels, which further enhance this bike's overall value and performance ability.
Cervelo P2K
Cervelo bikes are designed for high-performance cycling, but a beginner can also enjoy the Cervelo technology. Tri Gear Review recommends the P2K Ultegra 10 for a beginner triathlete looking to ride a Cervelo. You can change the seat angle by reversing the seat post to maximize positioning and aerodynamics. The aero frameset made from Smartwall 2 tubing provides a stiff and comfortable ride. Other features include a rear wheel cutout and slick internal cable routing.