Resistance bands are used to help tone and strengthen the entire body. They are inexpensive, ranging from $6 to $20, and don't take up much space, so they can be used at home and when traveling. However, the different colors and strengths of the bands do not correspond to specific weights, unlike dumbbells and other strength training tools.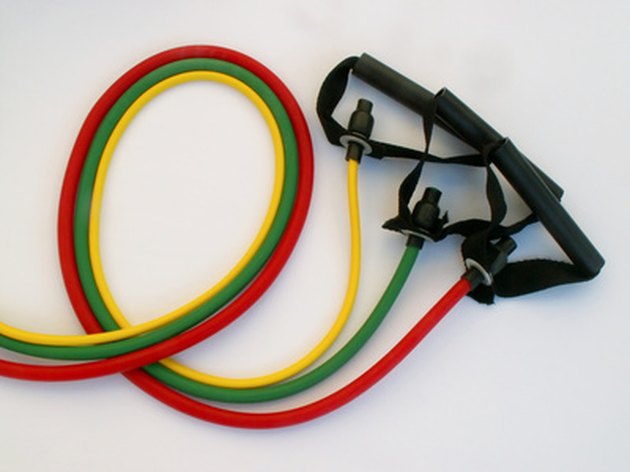 Yellow
The yellow bands are classified as light resistance. This means that they are very stretchy, and it takes little effort to pull against them and stretch them out. Light resistance bands are used for working areas such as the shoulders and shins, where you don't need much resistance to feel the muscle working.
Green
Green resistance bands are medium resistance. These bands are less stretchy and have more tension than yellow bands. Green bands are used for muscle groups that need slightly more tension, such as the biceps or triceps.
Red
Red resistance bands are medium to heavy resistance. They have a higher level of tension than green or yellow bands and are harder to stretch. Red bands are suitable for muscle groups that are larger, such as the legs, chest and back, or for individuals who have been building muscle strength.
Blue
Blue resistance bands are heavy resistance. These are much more stiff than red, green or yellow and do not provide as much stretch. Blue bands are for those who are very strong, or for those larger muscle groups, such as the legs, chest and back. These are also the bands to use when working out with someone else--when two people pull against a band.
Black
Black resistance bands have the most resistance. These are the hardest bands to stretch and pull. Like blue bands, black bands are used for the large muscle groups, such as the legs, or when working with others. Some sets of bands come in all black and the level of resistance is not based on color in these sets.