Resistance bands may not have the same heft and reputation as weights, but they can give you an effective strength-training workout whether you're on the road, at the office or in need of variety. The bands offer several benefits over free weights, although they also have a few disadvantages. One is not necessarily better than the other, unless one better suits your particular needs and tastes.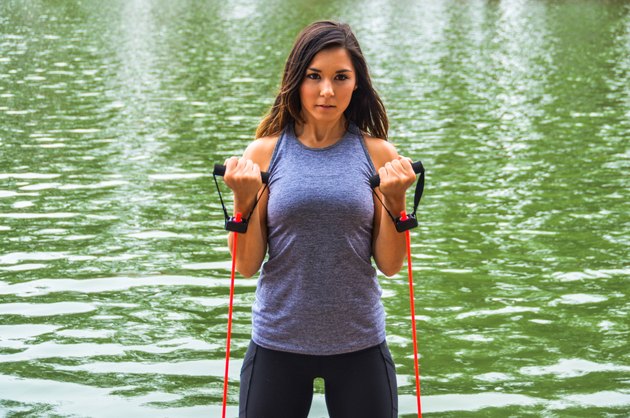 What They Are and Do
Resistance bands and weights work your muscles with resistance. The bands work by adding resistance to your exercises by pulling on an elastic band anchored in place. Weights work by adding resistance with the weights themselves. Different colors usually denote the level of resistance for the bands while a weight's size and markings tell you how heavy a particular weight is.
Advantages Vs. Weights
Resistance bands have several benefits over weight, with cost near the top of the list. Resistance bands are generally cheaper than weights, as are resistance bands' cousin, resistance tubing. Tubing is cylindrical in shape and has handles on the end while bands are usually flat and handle-free. Resistance bands are lightweight, easy to carry and store and fit right in your suitcase so you can work out during travel.
Disadvantages Vs. Weights
Unlike weights that are clearly marked, you cannot determine the exact weight, or level of resistance, you are using with each particular band. This might make it tricky when you want to increase the weight to further develop muscle. Resistance bands are not as durable as weights and can stretch out or rip over time or tear on sharp or uneven surfaces. Always inspect your bands for tears before use and always make sure your anchor is secure so the band does not whip back and slap you.
How to Use Them
You can perform the variations of common gym exercises with resistance bands. Examples include biceps curls, chest and shoulder presses, triceps extensions and squats. You have other exercise options not possible with weights, such as a side kick with the band gripped around your ankle, the circle crunch with the band tied around your thighs as you lie on your back and move your lower body in a circular motion, and the bow and arrow pull where you extend one arm holding one end of the band and pull your other arm taut with the other end of the band. If you're a beginner, start with one set of at least 12 and up to 15 repetitions for each exercise. As you advance, work your way up to two, then three sets each.