Black walnut has a long history of use in agriculture, medicine and commercial industry. Native Americans used the hulls to make dyes. Today, black walnut hull extracts are used in natural hair color formulas and self-tanning lotions. In natural medicine, the hulls are made into preparations to treat gastrointestinal disorders and parasitic and fungal infections. However, there are some adverse side effects associated with black walnut hulls.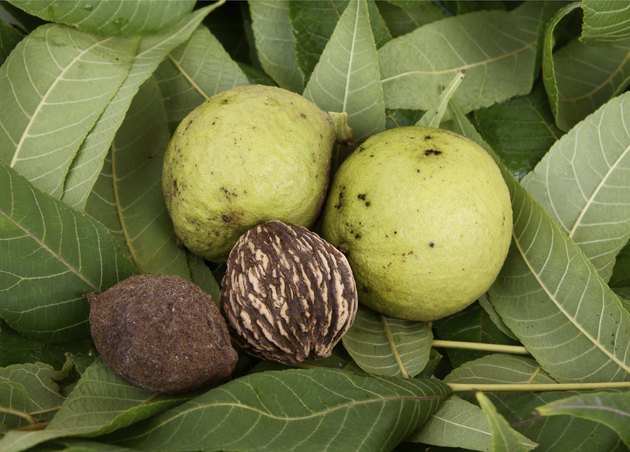 Allergic Reactions
According to The American Cancer Society, you should avoid black walnut products if you have a known sensitivity to other nuts, especially pecans. The PDR Health web site, which is maintained by the publishers of Physicians' Desk Reference, notes that signs of an allergic reaction to black walnut hull preparations include rash, hives, tightness in the chest or throat and difficulty breathing.
Toxicity in Humans
The active compound in black walnut is juglone. While this substance is found in all parts of the tree, Beverly Shaw, advanced master gardener at Purdue University says that the fruit, roots and hulls contain the highest concentrations. Apparently, the antimicrobial properties of this natural chemical also make it toxic. In a study published in Toxicology and Applied Pharmacology on Nov. 15, 2005, authors Michelle T. Paulsen and Mats Ljungman reported that juglone negatively affects human fibroblasts, specialized cells that reside in connective tissue that produce collagen proteins. Specifically, the researchers found that juglone drastically decreased available levels of a protein referred to as p53. This event damaged the DNA material in these cells and triggered apoptosis, or cell death.
Toxicity in Animals
Exposure to black walnut hulls in any form is known to produce certain reactions in ponies and horses ranging from localized dermatitis to a type of vascular disease called equine laminitis that affects the feet. According to a paper written by Dr. Bob Wright and Todd Leuty for the Ontario Ministry of Agriculture Food and Rural Affairs, black walnut hulls are sometimes found in wood shavings used to produce horse bedding material. The authors note that equine sensitivity to juglone is so great that as little as 20 percent black walnut hulls present in bedding material can result in laminitis within one to two days of exposure.
Another hazard exists from eating nuts that have fallen to the ground from nearby black walnut trees. If the walnuts become moldy, they may contain a neurotoxin called penitrem A, which can poison not only horses and ponies, but livestock and other animals as well. -- Reference 5 --
Horticultural Hazards
If you have black walnut trees on your property, be aware that juglone from falling nuts may affect other vegetation if planted in close proximity. According to Shaw, tomatoes are particularly susceptible to juglone.