The thyroid, located at the front of your neck, is a small butterfly shaped gland that is part of the body's endocrine system. A swollen thyroid, or goiter, occurs when the gland swells to larger than normal. Large goiters, seen or felt at the base of the neck, may cause tightness in the throat, hoarseness, and difficulty breathing or swallowing. A swollen thyroid can increase or decrease the production of thyroid hormone and can present additional symptoms.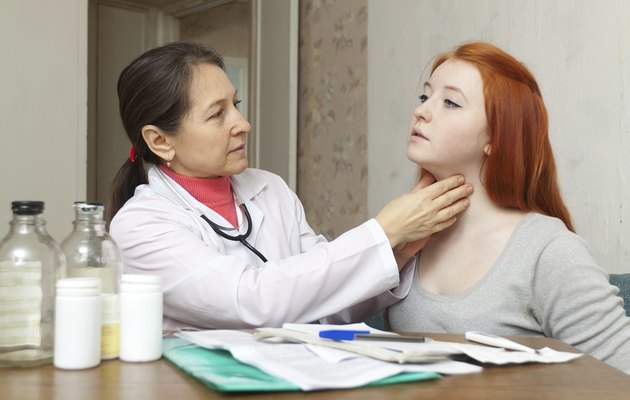 Autoimmune Thyroid Disease
Graves' disease is when the immune system attacks the thyroid gland, causing an overproduction of the thyroid hormone thyroxine. The excess hormones and increased stimulation of the gland causes the thyroid to swell. Hashimoto's disease is when the immune system causes damage to the thyroid and does not produce enough thyroid hormone. The pituitary gland produces more TSH, or thyroid stimulating hormone, to try to stimulate the thyroid, which can cause a goiter.
Thyroiditis
Thyroiditis can cause temporary hyperthyroidism followed by hypothyroidism. It is an inflammation of the thyroid gland, which may cause tenderness or pain to the neck, jaw or ears. Viruses, fever, medication, pregnancy or immune disorders may cause thyroidtitis, though often the cause is unknown.
Nodules
Nodules are lumps and bumps in the thyroid gland. Singular nodules, found on only part of the thyroid, are often found to be benign. A multinodular goiter is when multiple bumps develop on the thyroid, causing the entire gland to swell.
Thyroid Cancer
Thyroid cancer may present itself with a swollen nodule or cancerous growth on one side of the neck. According to the American Cancer Society, only around one in 20 nodules are found to be cancerous.
Iodine Deficiencies
Iodine, found in seawater and the soil of coastal areas, is needed to produce thyroid hormones. A diet deficient in iodine can cause an enlarged goiter. The thyroid swells in an effort to obtain more iodine from the body. Iodine deficiencies are not typically seen in First World countries, where iodine is added to foods and to table salt. People who reside at high elevations or inland and developing countries can be at risk for iodine deficiencies.