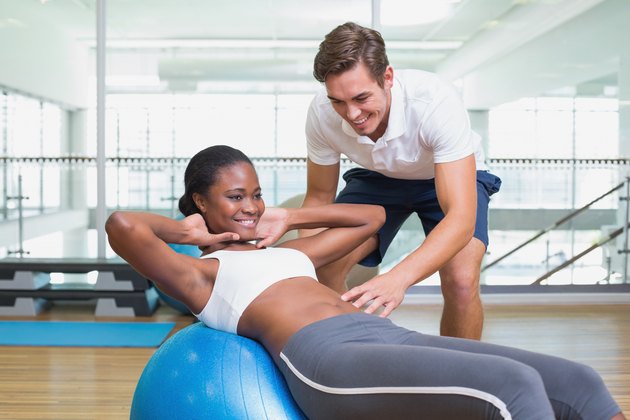 Demand for fitness trainers and instructors is expected to grow by 10 percent between 2016 and 2026, according to the U.S. Bureau of Labor Statistics. They note that rate of growth is faster than the average compared to all employment. It's a fulfilling career that allows you to care for yourself while improving the wellness of others.
As with many careers, it may require a bit of upfront investment of time and money for education and certifications.
Becoming Certified
Employment as a personal or fitness trainer generally requires certification by an accredited organization. This adds validity to your experience so that employers and clients trust your knowledge.
There are many ways to become certified, including through college and university programs. The following are widely considered to be the most reputable certification organizations:
Each requires that you complete and pass a final exam to receive your certification. It's advisable that you participate in the study programs ahead of the exam, which could include textbooks, coursework, and/or online prep instruction.
The cost for these training and test packages varies by organization and how much of the prep materials and courses you invest in. As of 2018, the cost for a personal trainer certification can range from about $349 to $2,000. Group fitness or more specialized certifications have their own fees. Special offers, military, and/or organization membership are all ways you may see a discount or price reduction.
Additional Costs
All of these certification organizations require that you be CPR/AED certified before taking the exams. The Red Cross offers classes for about $75.
Personal trainers who work as independent contractors or are self employed are strongly encouraged to carry professional liability insurance. In 2017, the average cost for a small business with this coverage was $1,735.60; the median was $920. This is a widely available policy that protects personal trainers in case of a lawsuit over negligence or undelivered services.
Like hair stylists, some personal trainers will have to pay a "booth space" fee to provide their services at an established gym. This may be a flat monthly fee (i.e. $1000/month) or a percentage of session fees (i.e. 40%).
As an independent contractor, you will be responsible for paying your own taxes. Consult with your accountant to understand current tax rates, quarterly payments, local state tax rates, and other details.
To build a clientele you'll need to let the world, or at least your city, know that you're open for business! Build a website, create social media accounts, reach out to corporate wellness program directors, or employ any guerrilla and/or traditional tactics that you're most comfortable with.