Push-ups are a classic upper-body exercise. Popular with the military, boot camps, and average gym-goers, they work the chest, triceps, and front shoulders. The abdominal muscles also come into play during a push-up. There are many versions of the push-up, each offering its own advantages. Fingertip push-ups are an advanced version, and offer several benefits.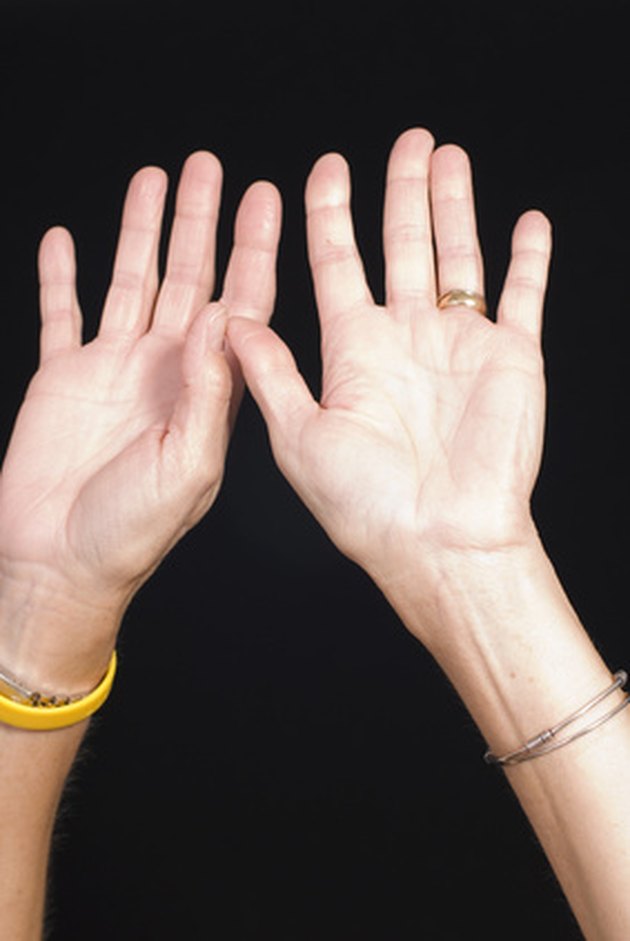 Exercise Progression
In order for you to continue seeing results from your workouts, you must incorporate progressive overload — placing greater stress on the body via intensity or duration — into your routine. If you do not constantly challenge your body with new, increased demands, it will have no reason to adapt and improve. Push-ups are a body-weight exercise; added resistance is generally not used as a progressive overload method. Once you've mastered the basic push-up, you will need to perform other, more advanced versions to challenge your body in new ways. Push-ups on your fingers are a more difficult version of the standard push-up, and are a great way to make your routine tougher.
Joint Stress
Wrist pain is a common complaint from those who do push-ups regularly. With your hands flat on the floor as in a regular push-up, your wrists are flexed, placing stress on the wrist joint. This can result in pain, and even injury. When you do push-ups on your fingers, the wrist is not flexed. This places less pressure on the wrist joint, resulting in less strain and chance of injury.
Forearm and Grip Strength
Fingertip push-ups work many of the same muscles as standard push-ups. The chest, front shoulders, abs, and triceps are all involved in both types of push-up. However, push-ups done on your fingers increases the load on your hands and forearm muscles. The Navy SEAL Physical Fitness Guide recommends fingertip push-ups to increase your forearm and grip strength. This is one reason why fingertip push-ups are more difficult than regular push-ups. Not many men or women have the type of strength required to support their body weight with their fingers. Fingertip push-ups will build up the strength and endurance in your forearms and hands, which will translate to other areas outside of the gym.