The effervescent nature of sparkling water makes for a refreshing beverage and a healthier alternative to sugary soda. In fact, it's so reminiscent of soda (thanks to the carbonation) that you might wonder if there are any detrimental side effects. Here we outline the differences in the types of carbonated water, the potential impacts on your health and how to enjoy carbonated water in a healthy way.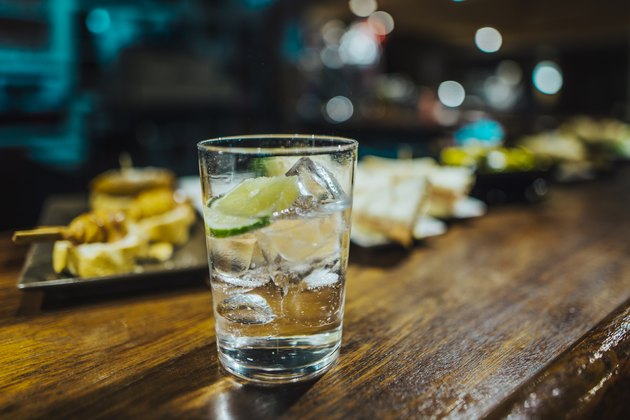 What Is Carbonated Water?
So, what is carbonated water exactly? Technically it's any water with carbon dioxide which, gives the water "bubbles." There are a few different monikers for carbonated water that, right or wrong, are used interchangeably—club soda, seltzer, sparkling mineral water—but there are small differentiating nuances to note.
Seltzer or sparkling water
Seltzer, aka sparkling water, is simply artificially carbonated water. The recipe in most cases is really just water that has carbon dioxide added to it, which gives it fizz and thus makes the water carbonated. In some cases, sodium and flavorings are added. For instance, New York Seltzer Sparkling Waters have just carbonated water and natural flavors while Polar and LaCroix are similar in that they're products include water, carbonation and natural flavors as well. Some seltzers can contain sodium. Seagram's Sparkling Selzer water has added potassium chloride which adds 35 milligrams of sodium per 12-ounce can. Poplar seltzer/sparkling water brands include: La Croix, Spindrift, New York Seltzer, Polar, Vintage, Seagram's, Canada Dry and Schwepp's
While seltzer and sparkling water can be used interchangeably, the use of the term mineral water is regulated by the U.S. Food and Drug Administration (FDA). To be labeled mineral water, it must come from an "underground source and contains at least 250 parts per million total dissolved solids. Minerals and trace elements must come from the source of the underground water. They cannot be added later." Popular brands include Topo Chico, Perrier, San Pellegrino, and Gerolsteiner
Setting the Record Straight: Carbonated Water and Your Health
There's a lot of confusion and misinformation out there when it comes to carbonated water and its potential effects, good or bad, on our bodies. Here we're setting the record straight on various myths and the science-based truths.
The theory is that phosphate, which is used to enhance flavor in some carbonated drinks limits calcium absorption, therefore resulting in calcium loss in the bone. But the truth is, there's no conclusive evidence that all carbonated drinks are linked to a lower bone density; only cola drinks have been connected to low bone mineral density.
In a 2006 study, researchers found cola consumption was associated with a significant decrease in bone mineral density (in the hips, not the spine) in women, but not men. Similar results were seen with diet cola drinkers but less with those who drank decaffeinated cola. Interestingly, non-cola carbonated drinks (seltzer water, cola-free soda, etc.) did not show any sort of association with bone density.
Digging even further, a 2005 study published in the British Journal of Nutrition looked at the impact non-carbonated mineral water versus carbonated mineral water had on the bone density of post-menopausal women. After an 8-week intervention, no difference in bone density was seen between the two groups.
A recent paper published in The Journal of the American Dental Association confirmed that beverages with a pH less than four are "potentially damaging to the dentition" and included an exhaustive list of commercial beverages—carbonated soda, fruit juices, flavored waters, teas, and energy drinks—and their pH levels. Of the 379 products they reviewed, 93 percent had a pH less than four.
The two carbonated waters on the list—San Pellegrino Sparkling Natural Mineral Water (pH 4.96, unflavored) and Perrier Carbonated Mineral Water (pH, 5.25) and Canada Dry Club Soda (pH 5.24, unflavored)—all had pH levels over four. Interestingly though, in most cases, when fruit flavors were added to regular water, the pH dropped into the erosive or highly erosive categories. This is because different acids are added to achieve the fruity flavors.
When it comes to an association between carbonated beverages and changes in weight, the research is mixed. A small study on young women found that drinking carbonated water compared to regular water led to a significant increase in their reported fullness. The researchers hypothesized that the drinking carbonated water causes a "short-term, but significant, satiating effect."
Conversely, in a 2012 study, researchers conducted parallel experiments—one on male rats and one on young men. In the animal study, drinking carbonated beverages led to faster weight gain after consumption for a year compared to those who consumed degassed beverages. The human study found increased ghrelin levels after drinking carbonated beverages compared to the control.
In 2018, Circulation, a journal of the American Heart Association, put out a report recommending consumers move away from sugary sodas and other beverages and to replace them with water—plain, carbonated, and unsweetened flavored.
Keeping Carbonated Water Healthy
If you're going to go the carbonated water route, look for those that don't have added sweeteners or if they do, look for beverages with minimal amounts like in the case of Spindrift. Tonic water is often found alongside other carbonated beverages but keep in mind that while it's a type of carbonated water, it has a lot of added sugars.
Remember that flavored types often mean added acids, which can wear away at the enamel on your teeth. A better option is to go for plain carbonated water and add your own natural flavorings (think spa waters)—lemon, lime, other fresh fruits, fresh herbs, etc.