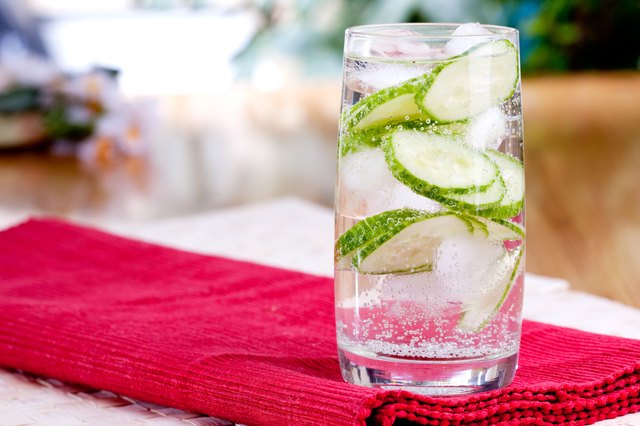 The effervescent nature of sparkling water makes for a refreshing beverage and a healthier alternative to sugary soda. In fact, it's so reminiscent of soda, due to the carbonation, that you might wonder if there are any detrimental side effects. When it comes to your health, carbonated water provides plenty of benefits with few consequences.
Health Benefits
Carbonated water -- also known as sparkling water, seltzer water or soda water -- is simply plain water that's been infused with carbon dioxide. The process of creating carbonated water doesn't add sugar, sodium, calories or caffeine. Hydration is vital to good health and, luckily, carbonating water hydrates just as well as still water, according to registered dietitian Jennifer McDaniel on Business Insider. Health effects of good hydration include better concentration, decreased risk of constipation, proper heart and kidney function, body temperature regulation and softer, more elastic skin.
Health Myths
There's a myth that carbonated drinks of any kind can leach calcium from your bones or damage your teeth; however, the claims are unfounded. Only cola drinks have been connected to low bone mineral density, and although carbonated water has slightly more acidity than plain water, it won't significantly damage tooth enamel. A study published in 2001 in the "Journal of Oral Rehabilitation" found that although sparkling mineral water had a slightly more erosive effect on teeth than still water, it was 100 times less than soda.
Side Effects of Bubbles
The carbonation of sparkling water could have a negative effect on some people. According to physician nutrition specialist Melina Jampolis on CNNHealth, those with irritable bowel syndrome might experience bloating and gas because of the CO2. Additionally, you should avoid carbonated water after a workout, recommends registered dietitian Ruth Frechman on Business Insider, as it might fill you up and cause you to drink less water to rehydrate.
Check the Label
Don't assume a clear, bubbly water is plain, carbonated H2O. Tonic water looks similar to plain carbonated water, but it contains sugar, while club soda contains additional sodium. Some flavored carbonated waters have artificial sweeteners. If you're trying to avoid any ingredients other than simple water, read the label before purchasing canned or bottled carbonated water.