Power describes your ability to generate force quickly, an important quality if you are involved in sports. Throwing a baseball, kicking a soccer ball, sprinting and jumping are all examples of power activities, and there are exercises and drills you can use to help develop power. When training for power, quality of movement is more important than quantity of repetitions. Perform short sets with maximal intensity interspersed with rests that are long enough for you to work at maximum intensity during each set you perform.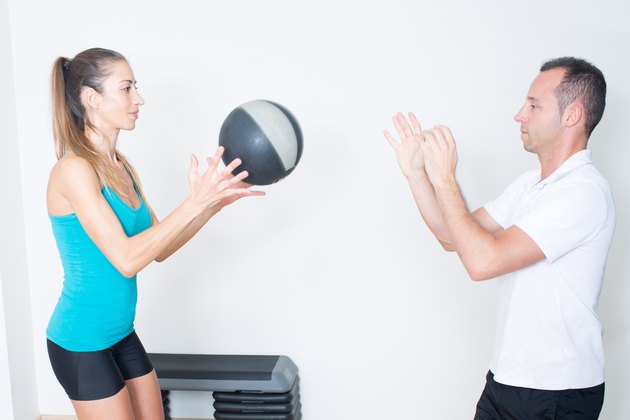 Squat Jumps
Squat jumps develop power in your lower body and will improve your vertical leap. Stand with your feet shoulder width apart and your hands by your sides. Bend your knees, push your butt back and descend into a squat position while simultaneously swinging your arms behind you. Dynamically swing your arms forward, and leap straight up into the air getting as much hang time as you can. On landing, bend your knees to absorb the impact and descend into another repetition.
Clapping Push-ups
A favorite of boxers, clapping pushups will develop your upper body's pushing and punching power. Adopt a regular pushup position with your hands below your shoulders, abs tight and head, hips and heels forming a straight line. Bend your arms, and lower your chest to the floor. Immediately extend your arms and drive your upper body off the floor so that your hands leave the ground. While you are in mid-air, clap your hands. As you descend, extend your arms and land on slightly bent elbows to absorb the impact. Bend your arms, lower your chest to the floor and repeat the exercise.
Medicine Ball Overhead Throws
This will increase your whole-body power, but it puts a particular focus on your hamstrings, glutes and lower back. These muscles often work together in jumping and sprinting movements. Stand with your feet shoulder width apart astride a medicine ball. Push your hips back, bend your knees and bend down. Grasp the underside of the medicine ball with both hands. Keeping your arms straight, dynamically extend your knees, hips back and arms to throw the medicine ball up overhead and behind you; aim for height and distance. Walk to where the ball landed, and repeat the exercise.
Two-Footed Hurdle Jumps
This drill will increase your vertical jumping ability. Place five to 10 knee-high agility hurdles in a row at three-foot intervals. Make sure the hurdles will topple over easily if you hit them. Stand at the start with your feet together and your hands by your sides. Bend your knees and descend into a quarter-depth squat. Using your arms for extra momentum, jump upwards and forwards over the first hurdle. On landing, immediately spring into another jump to clear the next hurdle. Continue jumping until you have cleared the entire run of hurdles.
To get the most from this drill, imagine the ground is hot, and try to minimize ground contact. Make each jump reactive so you are trying to go straight from the landing into another jump.