Constipation is a common symptom that occurs when you have fewer than three bowel movements in a week, or have problems passing hard stools. Many conditions, from medication to pregnancy to surgery, can cause constipation. Breathing exercises are a natural way of alleviating constipation without having to use medications or laxatives.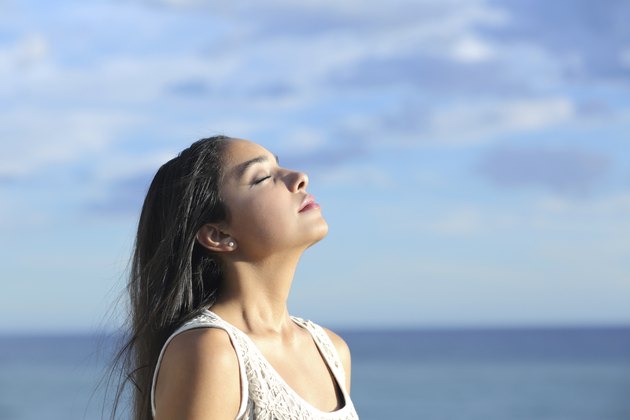 Bow Pose
This yoga pose incorporates breathing to help with constipation. Lie face-down on your stomach with your hands at your sides, palms facing up. Keep your knees about hip-width apart. Exhale, and bring your heels to your butt, then reach your hands back and take hold of your ankles. Inhale deeply and lift your heels away from your butt. Simultaneously, lift your thighs off the floor. This will pull your upper torso and head off the floor. Since your stomach will be pressed against the floor, you should take deep breaths from the back of your torso.
Kapalabhati Pranayama
This rhythmic breathing exercise helps relieve constipation by contracting the muscles of your digestive system. Kapalabhati involves alternating short, explosive exhales with longer inhales. The exhales should be powered by deep contractions in the lower belly. Sit up straight. Cup one hand around the other and press gently against your lower stomach to feel where the contraction is coming from. Quickly contract your lower stomach, pushing a burst of air out of your lungs. Quickly release the contractions so your stomach sucks air back into your lungs. Repeat at about one exhale-inhale every one to two seconds. Perform 25 to 30 cycles at first, and gradually increase to 100.
Agnisar Pranayama
This breathing exercise helps contract your stomach muscles to alleviate constipation. As you do it, concentrate on your digestive tract and moving oxygen throughout your body. Inhale deeply, flexing your stomach muscles as you inhale. Hold your breath, and contract and expand your stomach rhythmically for as long as you can. Exhale completely, and repeat three to five times.
Diaphragmatic Breathing
Diaphragmatic breathing massages the abdominal area to help initiate movement of the intestines and relieve constipation. To do this, purse your lips, and inhale deeply and slowly through your mouth, as if you were sucking air in through a straw. Keep your shoulders still. You should be able to feel your abdomen expand with oxygen.
Abdominal Breathing
Sit straight on a chair, with your feet positioned about shoulder-width apart. Position a six-inch stool or step on the floor as a footrest. Place one hand on your stomach and the other on your upper chest, and inhale slowly and steadily to the count of six. The hand on your stomach should move outward, while the hand on your chest should remain still. Hold your breath and count to 20, then exhale gradually over six to eight seconds. Practice for 15 to 20 minutes, three times a day.