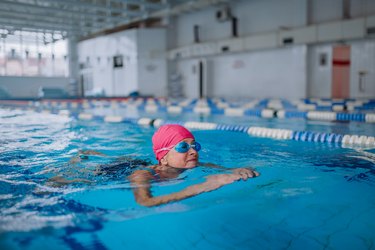 When you imagine a weight-loss workout, you probably picture some speedy, sweaty burpees or jump squats. But high-intensity, high-impact exercises aren't the only way to drop pounds. Swimming is friendly on your joints and torches calories pretty quick. And it's more challenging than you may think.
"Swimming can be difficult to get started in for a large amount of the population, even those who are already fit, because it is very technique driven," says Garret Seacat, CSCS, triathlon coach and founder of Absolute Endurance. "That doesn't mean you shouldn't try swimming, just be prepared to work harder until you feel more comfortable in the pool."
Ready to start moving (or swimming) toward your weight-loss goal? This kickstart plan has you covered for a full month. Over time, you can add in longer distances or faster paces to increase the intensity and your calorie burn even more.
Your Swimming Plan to Lose Weight
Seacat's plan includes three swim days and four rest days for four full weeks. The workouts increase in difficulty gradually as you get more comfortable in the pool, helping bump your weekly calorie burn.
But if this plan starts to feel too challenging at any point, feel free to add an extra rest day or modify your workouts as needed.
Considering different people have different levels of swim experience, feel free to choose your preferred stroke for each swim or add variation through different parts of the workout. Don't forget to start and end each workout with an easy 100-meter swim to warm-up and cool-down. And follow the rest guide below for each workout you do.
Rest Guide
For every:
100 meters, rest 60 seconds
75 meters, rest 45 seconds
50 meters, rest 30 seconds
25 meters, rest 30 seconds
Note: This is a rough guide you can follow. However, feel free to take more or less rest, depending on your fitness level.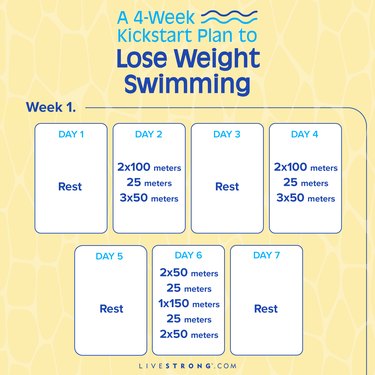 "[For this week,] let's start getting comfortable in the pool," Seacat says. If swimming 100 meters without stops feels too challenging, take breaks as needed.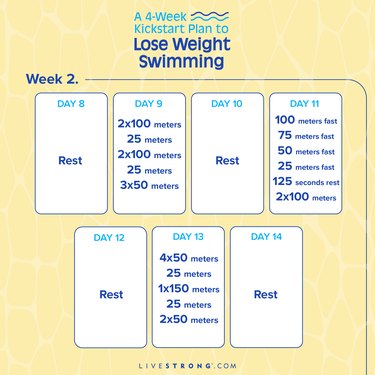 The goal this week is to minimize any extra rests you may have added during your previous workouts, Seacat says. So, if you took a brief pause in the middle of a 100-meter interval, try to make this rest shorter or cut it out completely.
This week includes a few faster intervals but your goal isn't to break any records, according to Seacat. Just try to push your pace to a challenging but sustainable effort. And if you need to take an extra pause, no biggie.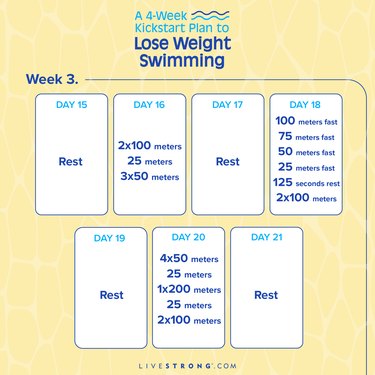 At this point, your goal is to keep adding a little bit of total distance in your swims, Seacat says. Towards the end of this week, your breathing during fast intervals should feel a little less strenuous than week two.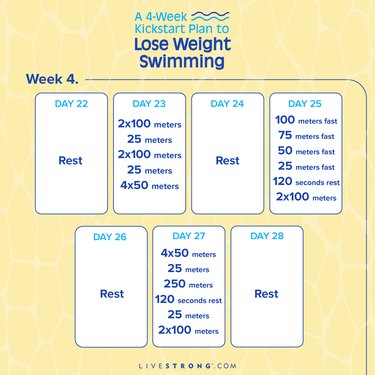 Each previous week, you've gradually added some distance over the weekends. "Now, let's really see what we can do," Seacat says.
Tip
During your 250-meter stretch on Saturday, you can feel free to swim farther, Seacat says. And afterward, take as much rest as you need to power through the rest of the workout.
Swimming can help build endurance and strength but it's hard to lose weight with exercise alone (no matter what modality you choose). And chances are, you'll feel pretty ravenous after your tougher pool workouts. So, it can be pretty easy to eat more calories than you burn in a day, which means you won't lose any weight.
But being mindful of your diet can help you progress towards your weight-loss goals. There's about 3,500 calories in one pound of fat. And to lose about a pound per week, you need to eat about 500 less calories each day, according to the Mayo Clinic.
Cutting calorie-dense highly processed foods (like candy, chips and soda) is the easiest way to remove a big chunk of calories from your daily diet. Swapping these with more nutrient-dense, low-calorie whole foods can help keep you satiated and fueled for your workouts.
With that said, you definitely don't need to lose a pound per week. Actually, the more gradual your weight loss, the more likely you are to keep it off in the long run. So, if cutting 500 calories from your daily diet feels unsustainable, feel free to minimize your calorie deficit.
Was this article helpful?
Thank you for your feedback!