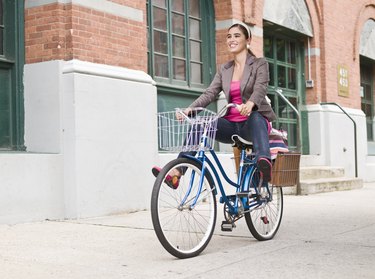 Comfort or cruiser bikes for women that receive the best user reviews have key design features that make them the most relaxing bicycle for the casual cyclist. Comfort bikes specifically designed for women have different frame geometries, specialized seats and handlebars that are sized specifically for your unique proportions. These bikes also stand out as top in their class with exceptional components, like reliable rims, a comfortable seat and high-quality tires.
Girls Only
The best reviewed comfort bikes for women use a women's-specific design, or WSD, which features a shorter top tube geometry to cater to the smaller torsos of female riders. A women's specific bicycle also comes in smaller sizes for more petite women. The handlebars are usually narrower, and wide seats provide ample comfort for the wider hips of most women. These simple differences make these comfort bikes the most enjoyable and most popular among discerning riders.
Ride In Style
Certain features are ubiquitous in the top-rated comfort bikes. These bikes are usually designed with single-speed drivetrains to minimize adjustments and repairs. Wide balloon tires absorb the jarring and vibration of rough roads, and additional features like bicycle lights and fenders that make your daily commute or exercise routine safer and cleaner. The frames of the best comfort bikes are usually made from steel, which combines high ductility and strength with some flexibility to absorb shock at a reasonable price.