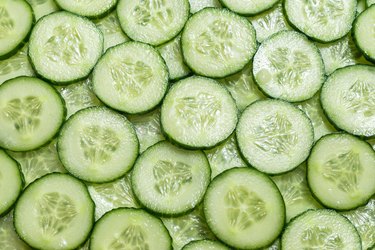 Crisp and juicy, cucumbers are the basis of a good pickle, but they are also commonly eaten raw. Cucumbers are botanically fruits, not vegetables, and are made of primarily water, with a mild flavor and crunchy texture.
Cucumbers have a refreshing taste and can be easily added to sandwiches or salads to provide extra nutrition and good crunch. They are low in calories and rich in a number of nutrients, making them an excellent choice for your everyday diet.
One large cucumber is considered one serving, and one large cucumber with the peel on, according to the USDA, contains:
​Calories:​ 45
​Total fat:​ 0.3 g
​Cholesterol:​ 0 mg
​Sodium:​ 6 mg
​Total carbs:​ 10.9 g

​Fiber:​ 1.5 g
​Sugar:​ 5 g

​Protein:​ 2 g
How Many Calories in Cucumber
1 whole cucumber: 45 calories
1 cup of cucumber: 16 calories
1 ounce of cucumber: 4 calories
Vitamins and Minerals in Cucumbers
​Vitamin K:​ 41% of your Daily Value (DV)
​Vitamin B5:​ 16% DV
​Copper:​ 14% DV
​Vitamin A:​ 11% DV
​Manganese:​ 10% DV
​Vitamin C:​ 9% DV
​Potassium:​ 9% DV
​Magnesium:​ 9% DV
Cucumber is rich in a number of essential vitamins, including vitamin K, also known as the clotting vitamin because it is essential for helping your blood clot, according to the U.S. National Library of Medicine (NLM).
Cucumber is also a rich source of vitamin B5 (aka pantothenic acid), which is responsible for making and breaking down fats, according to the National Institutes of Health.
Cucumber Without Peel Nutrition
​Calories:​ 28
​Total fat:​ 0.4 g
​Cholesterol:​ 0 mg
​Sodium:​ 5.6 mg
​Total carbs:​ 6 g

​Fiber:​ 2 g
​Sugar:​ 3.9 g

​Protein:​ 1.7 g
Vitamins and Minerals in Cucumbers
​Vitamin K:​ 17% of your Daily Value (DV)
​Vitamin B5:​ 13% DV
​Copper:​ 22% DV
​Manganese:​ 10% DV

​Vitamin C:​ 10% DV
​Potassium:​ 8% DV
​Magnesium:​ 8% DV
Nutrients and Calories in Tomatoes and Cucumbers
Cucumber and tomatoes are usually available year-round and are in season in the summer. They're often combined with olive oil to create a simple Mediterranean salad or a garden salad with leafy green lettuce.
If you're making a salad with one whole unpeeled cucumber and one tomato, the combo will supply you with 78 calories. In addition to the vitamins and minerals in cucumbers, you'll also get 7.1 grams of carbs in tomatoes and 2.2 grams of fiber from tomatoes, per the USDA. The fiber in a tomato fills your stomach and satiates your appetite, potentially preventing cravings for unhealthy foods that add calories to your diet.
One large tomato also provides:
​Protein:​ 1.6 g
​Vitamin C:​ 28% DV
​Vitamin K:​ 12% DV
​Copper:​ 12% DV
​Potassium:​ 9% DV
Water is essential for all bodily functions and your overall health. While there is no recommended daily intake, the general advice from experts is to consume about 11 to 15 glasses of water each day, according to the NLM. More water may be required because of high temperature and humidity, or if you are participating in strenuous physical activity.
A half-cup serving of raw, sliced cucumbers contains almost 50 grams of water per serving. Your daily water intake can be achieved through diet — especially eating water-rich foods such as cucumber — and through drinking fluids such as juices, teas and water.