You burn more calories running up and down stairs compared to jogging, or cycling, at a moderate pace without much of an incline, according to Dr. Cedric Bryant, chief science officer for the American Council on Exercise. Stair climbing can be a challenging activity, but tight and toned legs, improved cardiovascular fitness levels and weight loss are some of the benefits this exercise has to offer.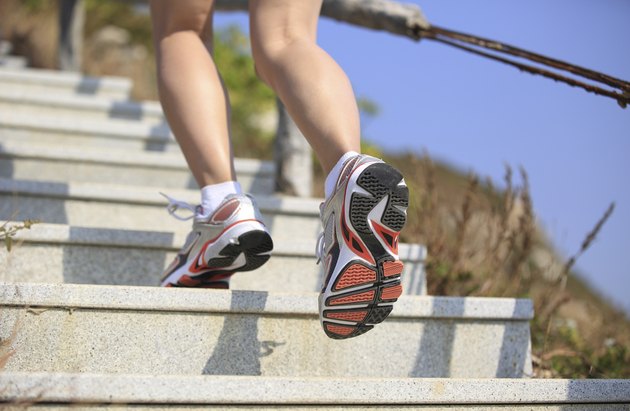 Step 1
Run up and down for at least 20 minutes. The American College of Sports Medicine recommends 20 to 60 minutes of physical activity, three to five days a week. However, 60 to 90 minutes of activity may be necessary for weight loss. Break your time down into smaller increments if necessary, such as 20 minutes three times a day.
Step 2
Count how many times you can run up and down the stairs in 60 seconds. Use a stopwatch to accurately time the 60 seconds. Try to keep beating your score. For example, if you can run up the stairs 10 times in 1 minute, shoot for 11 times the next round. Do this for a total of 10 to 20 minutes, several times a day.
Step 3
Incorporate interval training into your run. Interval training involves alternating between low and high-intensities through the duration of the exercise. For example, run up and down at a normal pace for two minutes. Then sprint up and down for one minute. Sprint up the stairs. Then walk down. Run up every other step and walk down. The more vigorously you exercise, the more calories you will burn, even if you increase intensity for just a few minutes at a time.
Step 4
Add resistance by wearing a weighted vest, holding a medicine ball or wearing extra clothing. Resistance training builds and strengthens muscle tone. Muscles burn calories as they strengthen and repair themselves, even while you rest. Because of this, calories are being burned both during and after your workout. Run up the stairs during resistance training, but always walk down to avoid injuries. Dr. Cedric Bryant, chief science officer for the American Council on Exercise, told the New York Times, "The impact on knees and feet is three to four times your body weight when running upstairs. However, the pounding on the body going downstairs equals six or seven times one's body weight."
Tip
Choose times when there is low traffic on the stairs to avoid potential collisions while climbing.
Warning
Talk to your doctor before staring a weight loss program.