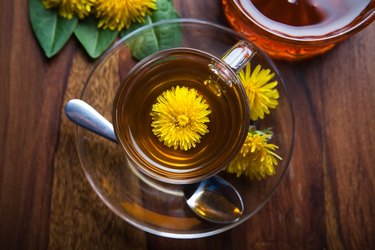 If you have painful hemorrhoids, don't assume you have to suffer through them. In many cases, you don't even need to turn to medicine for hemorrhoid treatment. There are plenty of home remedies for hemorrhoids you can try, including herbal teas.
What Are Hemorrhoids?
Hemorrhoids result from the swelling of blood vessels in the anus, and although they can often be uncomfortable and painful — sometimes even accompanied by bleeding — they are usually not a sign of any serious condition, explains the University of California San Diego.
Hemorrhoids usually happen when a person strains during a bout of constipation, and they will often go away on their own. Because of this, people with chronic hemorrhoids are advised to address their problem of constipation by increasing their fiber and fluid intake. In some cases, a fiber supplement or stool softener could help.
Specifically, bulk-forming laxatives such as psyllium husk are good for hemorrhoids, according to TriHealth, a partnership between Good Samaritan Hospital and Bethesda Hospital in Cincinnati. People aiming to improve their digestive health should also get plenty of probiotics, beneficial gut bacteria that your body produces naturally and that are also available via dietary supplements.
If hemorrhoids are painful, you can try applying an ice pack to make the swelling go down, or you can use over-the-counter medicated creams and ointments that will stop your hemorrhoids from itching. There are also many home remedies for hemorrhoids involving teas, sitz baths and topical ointments.
Is Tea a Good Option?
Many herbal and botanical solutions have been touted as being beneficial for hemorrhoid treatment. As far back as 2005, a German phytotherapist and medical doctor named Dr. Rudolph Fritz Weiss introduced an herbal tea for hemorrhoids.
The recipe, published in a December 2005 issue of Alternative & Complementary Therapies, called for 1 to 2 teaspoons each of chamomile, calamus, fennel, senna and frangula, which should be steeped in 1 cup of boiling water for 10 minutes. This tea for hemorrhoids should be consumed once in the morning and once in the evening.
Other botanicals that could be used for hemorrhoids include witch hazel, stone root, horse chestnut and butcher's broom. These botanicals can be either consumed orally or mixed in the form of tincture into a cream base to make a topical application.
However, although use of horse chestnut and butcher's broom is backed by science, the article did note that not much research had been done into the use of botanical treatment for hemorrhoids, as of its 2005 publication.
Herbs Used Other Ways
Many experts, including those with TriHealth and InformedHealth, list herbal treatment options but emphasize that these methods are not scientifically supported and more research is needed.
More importantly, there is the chance that herbals and botanicals can interfere with other medications or other supplements. Therefore, it is important to keep your doctor informed of any treatment options you are pursuing, even if it is something as simple as Dr. Weiss' tea for hemorrhoids .
If your doctor supports your use of herbals or botanicals, InformedHealth suggests soaking hemorrhoids in a sitz bath and adding anti-inflammatory herbs like chamomile, witch hazel, arnica, oak bark or tea tree oil to the water. You can also use anti-inflammatory creams like zinc or panthenol.
Herbs that could possibly be good for hemorrhoids, according to TriHealth, include witch hazel, goldenrod, gotu kola and yarrow. Instead of consuming these via tea, patients should use them topically or add them to a sitz bath. TriHealth also warns that herbs may interact with medications so consult with your doctor first.
Hemorrhoids treatment can be effective within a week or two and should be combined with necessary lifestyle changes, such as an increased intake of fiber, to prevent recurrence.