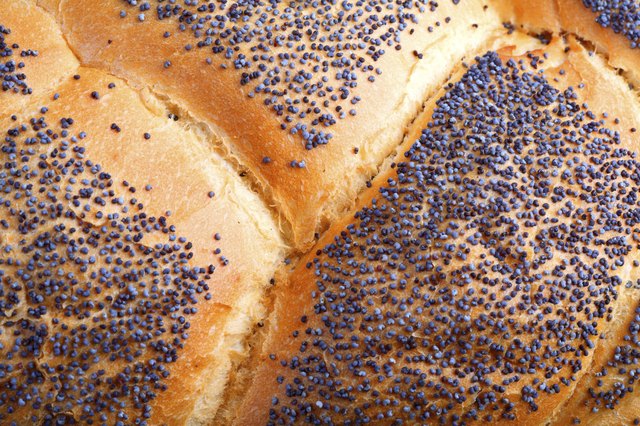 Poppy seeds can be found in baked goods and cooking oils, as well as in extracts for use in alternative medicine. Poppy seed oil is also used as a carrier for iodine in pediatric medicine and as a contrast medium for hysterosalpingography (HSG), an x-ray procedure that evaluates fertility in women, according to Natural Standard. With such widespread use, it may surprise some that poppy seeds have powerful and in some case dangerous side effects.
Urinalysis Results
Eating even a small amount of poppy seeds can produce positive results on a urinalysis intended to show drug use, notes the Mayo Clinic. According to the Mayo Clinic's publication "Urine Drug Screening: Practical Guide for Clinicians," one research study on poppy seed cookies showed a positive test result for opiates up to two hours after eating. A separate study on poppy seed bagels showed positive drug test results up to one day after ingesting the food.
Impaired Consciousness
Poppy seeds eaten in large quantities can lead to impaired consciousness, lightheadedness and complications with the respiratory and cardiovascular systems, according to Dr. Andreas Hensel, President of the Federal Institute for Risk Assessment in Germany. The quantity of morphine present in poppy seeds can vary tremendously depending on geographic and harvesting variables, which can unknowingly intensify the effect of the seeds.
Death
Poppy seed tea can have both mild and fatal side effects, notes Poppies.org. Small amounts of the tea may act as a sedative, produce dizziness or nausea, lead to spontaneous itching of the skin or result in constipation or urinary retention. Overdoses can trigger respiratory depression and cardiac arrest. Moreover, drinking alcohol concurrently with poppy seed tea can increase the incidence of strong adverse side effects, notes the website.