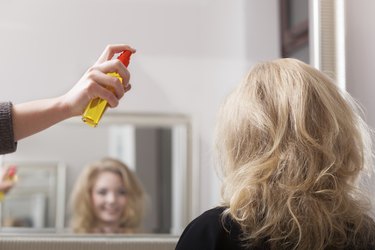 According to "Hair Care: An Illustrated Dermatologic Handbook," when hairspray is used frequently, it can build up in the hair, leaving it looking heavy and dull. Fortunately, you can remove hairspray buildup with a few household ingredients and about a 1/2 hour of time, restoring your hair's original shine and luster.
Step 1
Pour 2 tbsp. of shampoo into a bowl. Add 1 tsp. of baking soda to the bowl. According to "Hair and Hair Care," baking soda is able to break down the hairspray, allowing the shampoo to then remove the broken-down hairspray from the hair.
Step 2
Mix the shampoo and baking soda together with a spoon until a smooth liquid is formed.
Step 3
Scoop up a small amount of the shampoo and baking soda mixture onto the wide-toothed comb and run it through dry hair. Continue the process until all of your hair is covered with the mixture.
Step 4
Allow the baking soda and shampoo mixture to rest in your hair for 15 minutes. According to "The Science of Hair Care," this amount of time is necessary for the baking soda to adequately break down the molecular structure of the hairspray.
Step 5
Rinse the baking soda and shampoo mixture from your hair. Shampoo your hair once more after rinsing to ensure that all of the baking soda is gone.
Things You'll Need
Bowl

Shampoo

Baking soda

Wide-toothed comb

Spoon
Tip
The treatment can be used as frequently as you feel necessary without damaging your hair, according to "The Science of Hair Care."