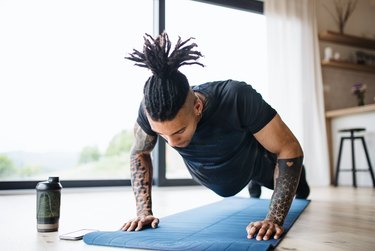 Making arm exercises a priority in your workout benefits your everyday life — think of how many times a day you push, pull, lift or carry something. However, building arm strength can also help you get rid of "armpit fat," if that's your goal.
"Adding some muscle to the areas surrounding the armpits is the best thing we can do to tighten that area, along with a proper diet and lifestyle," Joey Thurman, CPT, tells LIVESTRONG.com.
In addition to strengthening exercises for areas of your chest and back that surround your armpits — such as isometric exercises or resistance band exercises — you'll also need to reduce your overall body fat, because you can't "spot reduce" one area, Thurman says. When you lose total body fat, some of it will naturally come from your back and underarms and you'll lose armpit fat.
Adding cardio into your routine helps you burn fat. Thurman says to look for activities that also work your arms, including as boxing or kickboxing, jumping rope, swimming, rowing or the elliptical machine. But most importantly, choose activities you actually like, because you'll be more likely to stick to them.
To lose or maintain weight, aim for 150 minutes of moderate-intensity aerobic activity or 75 minutes of high-intensity aerobic activity each week, according to the Centers for Disease Control and Prevention (CDC). This translates to 30 minutes of moderate cardio five days a week or a total of 1 hour and 15 minutes of intense cardio for the week.
Tip
High-intensity interval training (HIIT) is a great form of cardio for fat loss that you can add to your armpit fat workouts.
Not only can you burn more calories during a HIIT workout, but you can increase your calorie burn in the hours afterward, thanks to something called excess post-exercise oxygen consumption (EPOC), according to the American Council on Exercise (ACE). That's just a fancy way of saying that after an intense interval workout, your body is using more energy to restore itself to its pre-exercise state.
To do a HIIT workout, alternate short bouts of intense exercise, like sprinting, with equal bouts of recovery. During your sprints, you really want to ‌go all out‌. You'll lose that back and armpit fat fast, and you'll get in top cardiovascular shape as well.
But because HIIT puts more stress on your body than steady-state cardio does, you don't want to do it every cardio session.
Before we dive into the best strength exercises to reduce armpit fat, let's back up for a minute: What causes armpit fat in men and women in the first place?
People with obesity — no matter their gender — may have underarm or back fat, but it depends on genetics where exactly excess fat is stored on your body, according to a January 2o19 study in ‌Nature Communications‌. So, if you have family members with fat under their armpits, you may be more likely to store fat there as well.
The research also found that genetics more greatly affects where fat is distributed in people assigned female at birth (AFAB) as opposed to people assigned male at birth (AMAB).
People with breasts may also appear to have more underarm, armpit or back fat. In many cases, a better-fitting bra or top that doesn't dig into the skin may fix the issue, according to bra company Finally Bra.
How Strength Training Can Help Get Rid of Armpit Fat
Strength training is cardio's partner when it comes to fat loss — while you can't spot reduce your trouble zones, you can strengthen the underlying muscles with certain armpit fat exercises.
Although you burn fewer calories while strength training, having more lean muscle mass raises your body's metabolism. According to the CDC, you should strength train two or more days a week.
Wondering how to get rid of underarm and armpit fat? Here are the best exercises you can do to get rid of armpit fat. (While these moves focus on working your upper body, it's worth noting compound exercises — like deadlifts and thrusters — target all of your muscle groups to build well-rounded strength in less time.)
Activity
Body-Weight Workout
Sit on the edge of a sturdy chair or workout bench.
Place your hands palms down on the chair on either side of your hips and extend your legs out in front of you.
Carefully slide your butt off the edge of the chair while keeping your arms straight and your back close to the edge of the chair.
Slowly bend your elbows to almost a 90-degree angle while lowering your butt toward the floor,.
Push back up to the starting position.
Tip
To make the move easier, move your feet in toward the chair or workout bench and bend your knees. To make the move harder, straighten your legs fully.
Activity
Dumbbell Workout
Lie on your back with your feet on the floor and legs bent, holding a dumbbell vertically with both hands above your head.
With a slight bend in your elbows, extend your arms over your head so your biceps are by your ears.
Lower your arms down toward your stomach, straightening your elbows as you go.
Repeat.
Activity
Dumbbell Workout
Lie on your back with your feet flat on the ground and knees bent about hip-distance apart.
Hold a pair of dumbbells with a neutral grip (palms facing each other) directly over your chest so they're parallel to your body.
Keeping a slight bend in your elbows, slowly lower the dumbbells down toward the sides of your chest. Your elbows should come to shoulder level or slightly below.
Bring your hands back to the center.
Repeat.
4. Wide-Grip Lat Pulldown
Sit on the seat of the lat pulldown machine, snug the padded support on your thighs and grab the straight bar with a wide, overhand grip.
Lean back slightly, keep your back straight and pull the bar down to your chest.
Raise it back up slowly.
Repeat.
5. Single-Arm Dumbbell Row
Activity
Dumbbell Workout
Stand an arm's distance away from a bench, box or chair and hold a dumbbell in your left hand.
Hinge your hips back and place your right hand on a bench, box or chair with the arm fully extended and your feet directly underneath you. Maintain a soft bend in your knees.
Drive your left elbow up and back, bringing your thumb just underneath your chest to the top of the rib cage.
Squeeze your shoulder blade to your spine, then return to starting position, fully extending your arm at the bottom.
Repeat.
Activity
Body-Weight Workout
Position yourself on your hands and knees, hands under shoulders and knees under hips.
Step your feet back and straighten your legs so that you're balanced on your palms and toes.
Your body should make a straight line from head to hips to heels, and your hands should be directly under your shoulders or slightly wider apart.
Bend your elbows at a 45-degree angle to your body and lower your body to the floor.
Press into your palms and push the floor away from you to come back up to a high plank, still keeping your body in one straight line.
Repeat.
Tip
To make push-ups easier, try doing incline push-ups where your hands are on an elevated surface like a chair, box or bench. The higher the surface, the easier the move will be.
Activity
Dumbbell Workout
Grab two dumbbells and lie flat on a bench or the floor.
Start in a prone (overhand) grip with your palms facing away from you toward your feet.
Exhale as you press the dumbbells upward and inward until your arms are almost fully extended and the dumbbells nearly touch.
Inhale as you slowly bend your elbows again, lowering your arms gently back to the starting position.
Repeat.
Tip
To make this exercise easier, alternate arms instead of pressing both arms up at the same time.
8. Resistance Band Face Pull
Activity
Resistance Band Workout
Anchor a long-loop resistance band at eye level or slightly higher and grab one end of the band in each hand.
Take a step back to make the band taut and bend your knees slightly, feet at shoulder-width distance.
Pull the sides of the band back so your arms spread out as if you're flexing your biceps. Your hands should be by or past your ears, elbows pointed down.
Hold this double biceps position for a second or two, squeezing your shoulder blades together and keeping your shoulders down.
Reverse the move to return to start
Repeat.
Activity
Body-Weight Workout
Jump up and grab a pull-up bar with an overhand grip about shoulder width apart. Extend your arms so you're in a dead hang.
Engage your arms and back to pull yourself up so your chin is level with the bar.
Lower yourself back down until your elbows are straight and you're back to your starting position.
Repeat.
Tip
To make pull-ups easier — or if you can't do a pull-up — you can do band-assisted pull-ups or inverted rows.
A Word on Nutrition for Fat Loss
If you're wondering if there are anymore tips for how to lose armpit, underarm or back fat, the answer is yes.
In addition to workouts for underarm fat, healthy eating is one of the best ways to lose body fat, including in your armpits. Being in a calorie deficit — aka burning more calories than you consume — can help you start shedding body fat, according to the Mayo Clinic.
Prioritizing fruits, vegetables, whole grains, lean proteins and healthy fats (think: avocados or nuts) in your diet will help you lose fat, if that's your goal, according to the Office on Women's Health.
Adding more protein to your diet when strength training will help you build lean muscle, which boosts your ratio of body fat to lean mass, according to a March 2016 report in the ​‌Journal of the Academy of Nutrition and Dietetics‌​.