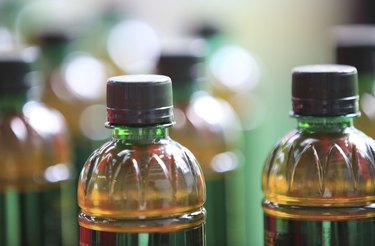 Lipton Tea has been around since 1893, when Thomas J. Lipton opened a tea packing company in Hoboken, New Jersey. After years of producing Lipton tea bags, the company added bottled iced green tea to its product mix.
You might be wondering if Lipton Green Tea in a bottle is good for you. At first glance, you may assume that because it is green tea, it must be healthy, but after reading the list of Lipton Green Tea ingredients, you'll see it's no better than a can of soda.
Lipton Green Tea Ingredients
Lipton Green Tea with Citrus comes in a 20 fluid ounce bottle. Its list of ingredients reads: Water, High Fructose Corn Syrup, Citric Acid, Green Tea, Sodium Hexametaphosphate and Ascorbic Acid (to protect flavor), Honey, Natural Flavors, Phosphoric Acid, Sodium Benzoate, and Potassium Sorbate (to preserve freshness), Calcium Disodium EDTA (to protect flavor), Caramel Color, Yellow 5, Blue 1.
Keep in mind that each 20 ounce bottle represents 2.5 servings. There are 80 calories per serving, or 200 per bottle, including 21 grams of sugar per serving, or a whopping 52.5 grams of sugar per bottle. That equals over 11 teaspoons of sugar per bottle.
High Fructose Corn Syrup
Not only does Lipton Green Tea come packed with sugar and calories, it also has high fructose corn syrup as its second ingredient — green tea is fourth on the list. When you consume high fructose corn syrup, it is quickly absorbed by the liver and converted into fat. Your body doesn't even recognize it as food, so you're still hungry, if not hungrier after you consume it.
Aspartame for Sweetness
Lipton Diet Green Tea with Citrus also comes in a 20 oz. bottle, but has no calories. The ingredients are basically the same, except the diet product uses aspartame for sweetness, rather than high fructose corn syrup and honey.
According to the Food and Drug Administration, aspartame actually does have calories, but it is so sweet that it takes a significantly lower amount to be effective, compared with regular sugar.
Antioxidants in Green Tea
Antioxidants are one of the potential Lipton Green Tea benefits. According to an article published in 2013 by the Journal of Pharmaceutical Sciences and Research, green tea has antioxidant properties which help reduce risk of chronic disease and inflammatory conditions.
The Lipton website boasts that their bottle of Diet Green Tea with Citrus has 72 mg protective antioxidants per 8 fluid ounce serving or 108 milligrams per 12 fluid ounce serving. In comparison, the Lipton Green Tea with Citrus tea bag has 110 milligrams of antioxidants per serving. Green tea is loaded with antioxidants, but processing destroys some of them. Tea bags have more antioxidants per serving than the bottled version. Loose-leaf green tea has even more antioxidants than tea bags.
Consider the Environmental Impact
The new bottles being used by Lipton now contain 20 percent less plastic than the old ones, helping to reduce their impact on the environment. As the world's leading tea producer, Lipton is committed to sustainable practices. The company's tea estate in Kericho, Kenya, has been Rainforest Alliance Certified, and all Lipton tea bags sold globally have been grown on Rainforest Alliance Certified estates, according to the Rainforest Alliance website.