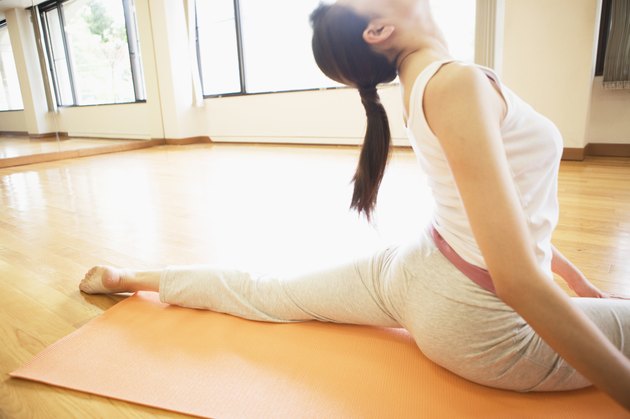 The best exercise mat for you will depend on what you intend to use it for. There are exercise mats specifically designed for yoga, Pilates, martial arts and exercising in general. These mats differ in weight, length, thickness, tackiness and portability. Decide what activities you plan to use your mat for before making your purchase.
Yoga Exercise Mats
Yoga exercise mats are designed to be thin enough you can roll them up and carry them around easily, tacky enough that your hands and feet won't slip, and long enough to fit the length of your body while you're doing a variety of exercises. The standard yoga mat is 68 to 72 inches, but you might want to buy a longer yoga mat if you're tall. Most yoga mats are about 1/8-inch thick, but you can buy a premium 1/4-inch yoga mat for extra padding, or a light weight 1/16-inch yoga mat if you travel a lot. Manduka is one company that makes excellent yoga mats to meet every need. Gaiam is another company that makes very economical yoga mats good for beginners.
Pilates Exercise Mats
Yoga exercise mats can also be used for Pilates. There are, however, exercise mats specifically designed for Pilates that are shorter and thicker than yoga mats. The downside to these mats is that they are less portable and less versatile than yoga mats. Oftentimes, you can't use a Pilates mat for yoga, but you can always use a yoga mat for Pilates. If you like extra cushion, consider buying a premium 1/4-inch mat designed for both yoga and Pilates from popular companies like Manduka or Jade.
Martial Arts and Gymnastics Exercise Mats
Martial arts and gymnastics exercise mats tend to be very thick to protect your body during floor exercises like tumbling and grappling. Many martial arts exercise mats are foldable and some can be combined with other mats to create a larger area. Some mats are designed like puzzle pieces or they have hook and loop fasteners so that they won't move around when you combine multiple mats together. We Sell Mats makes an affordable and popular foldable mat with hook and loop fasteners.
General Fitness Exercise Mats
General exercise mats can be used for a wide range of purpose like cardio exercises, stretching, crunches, pushups, lunges, and other exercises that require you to be on your belly, back, hands and knees. If you want an exercise mat that's versatile, easy to carry around and provides some padding, then a 1/8-inch or 1/4-inch yoga mat by Gaiam or Manduka is a good option. If you're very sensitive to hard surfaces and need more padding, ProSource makes a 1/2-inch thick, 71-inch long exercise yoga mat that can be easily rolled up. The extra thickness does, however, make it more difficult to do balancing exercises.