The aquatic environment is a comfortable place to exercise for your fat-burning goals. Swimming is an aerobic activity, which means it uses fat to sustain your workout. According to the American College of Sports Medicine, a particular frequency, intensity and duration are required to burn fat. If you're splashing around playing Marco Polo, you won't get the same benefit as when you continuously lap swim. The good news is that your swim stroke does not matter. If you are able to do the front crawl, back stroke or the challenging butterfly, you will burn fat when you swim at a moderate to high intensity level.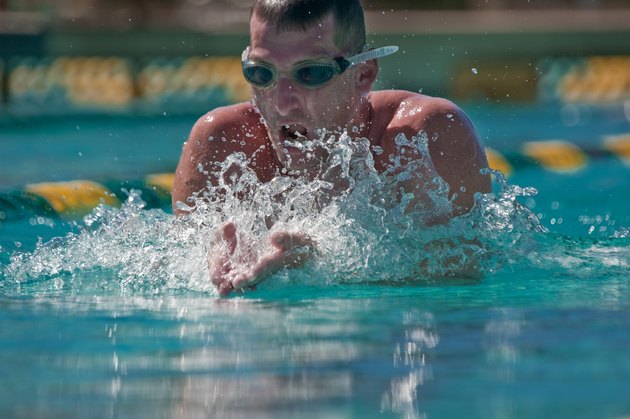 Step 1
Warm up by swimming at a slow pace for five to 10 minutes. Use this time to gradually increase your heart rate and to warm your shoulders for the swim.
Step 2
Increase your swimming pace to a level that feels moderate to heavy. Check your intensity level by the feel of your breathing. Slow down your swim if you are gasping for breath and unable to talk. Speed up your swim if you are not breathless and could sing.
Step 3
Wear a waterproof heart monitor for a more accurate gauge of your intensity level. Aim to exercise at a level between 60 and 90 percent of your age-predicted maximum heart rate. Calculate this by subtracting your age from 220 and multiplying the result by 60 and 90 percent.
Step 4
Maintain your swimming pace for a minimum of 10 continuous minutes. Aim to perform 20 to 60 continuous minutes to burn a higher number of fat calories as your fitness and endurance improve. A 160-pound person burns approximately 10.3 calories each minute swimming at a moderate, crawl pace.
Step 5
Swim on a minimum of three days a week. Aim to do your swimming workout three to five days a week for maximum fat-burning benefits.
Step 6
Cool down with a slow-paced three- to five-minute swim at the end of your fat-burning session to settle your heart rate before you return to land.
Warning
Speak with your doctor before you begin a swimming exercise program. Never swim alone; swim with a partner or under the protection of a lifeguard.