You can achieve a lot in a month, but whether a flat stomach is one of them remains to be seen. Where fat loss comes from, as well as how fast it melts off, is highly dependent not only your diet and workout routine, but also genetics.
No matter if you manage to attain a completely flat stomach within 30 days, whittling your waist offers a plethora of health benefits, according to Johns Hopkins School of Medicine. These include a decreased risk of cancer and heart disease, as well as better blood vessel functioning.
While you can't spot-reduce your midsection, you can undertake a comprehensive workout routine, as well as a healthier diet, to flatten your stomach.
Feel the Burn with Cardio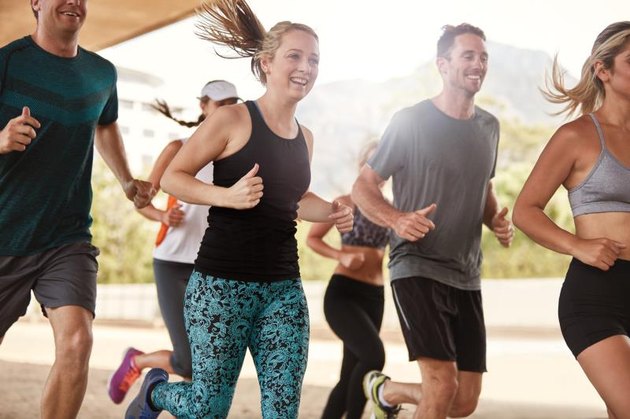 Resist the inclination to start crunching your midsection in an effort to flatten your stomach — it takes a full-body cardio workout to burn off the fat that's hindering your efforts. The American College of Sports Medicine recommends a minimum of 150 to 250 minutes of of moderate-intensity cardiovascular activity per week for weight loss. For significant weight loss, the recommendation is even higher: 250 minutes of cardio each week.
The optimal type of cardio for you to do is one that you'll stick with for the whole month — and, ideally, beyond. If you hate running, there's no need to strap on your sneakers to hit the pavement. Options for moderate-intensity cardio activities include:
Swimming

Cycling

Trampolining

Dancing

Rowing

Power walking

Circuit training
Work the Core
If you want sculpted muscles in addition to a flat tummy, work regular core exercises into your routine.
Basic Plank
Step 1
Get into a push-up position, but keep your hands directly under your shoulders.
Step 2
Contract your core muscles, including your rectus abdominis — the front sheath of muscle on your stomach — and hold this pose as long as you can without compromising form.
Step 3
Work your way up to holding the pose for a minute or more.
Lying Weighted Twist
Step 1
Lie on your back with a stability ball held between your calves. Place your arms straight out to the sides.
Step 2
Lift your legs straight up until they're perpendicular to your body.
Step 3
Moving slowly and with your core muscles engaged, lower your legs to your left side. Return to the starting position. Repeat on the other side. Aim for 10 repetitions.
Additional abdominals moves you can incorporate into your workout include:
Clean up Your Diet
As the saying goes, "Abs are made in the kitchen." Therefore, to get that trim stomach you're aiming for, you must rid your pantry and fridge of all processed foods and stock up on healthful options, such as lean proteins — chicken breasts, fish and lean beef, for example — beans and legumes, whole grains and plenty of vegetables and fruit.
During your month-long quest for a flat belly, eat fewer carbohydrates in favor of more protein and unsaturated fats. A study published in 2014 found that people who ate a low-carb diet — rather than one low in fat — lost more weight, even when the caloric intake was the same. When you do eat carbs, stick to high-quality options, such as whole-wheat products, root vegetables and legumes.
When it comes to your beverages, water is your best bet. If you're the type to indulge in a tipple, consider cutting out alcohol for the 30 days you're trying to get a flat belly. Not only is alcohol a risk factor for obesity, but it also lowers your willpower, stimulates your appetite and make you more prone to consuming junk food.
Tip
If bloat is causing your stomach to look bigger than normal, decrease your sodium consumption to 1,500 milligrams a day and increase your water intake. This will help beat water retention and make your stomach look leaner.