A pulse rate is considered normal if it falls between 60 and 100 beats per minutes when a person is at rest. The Mayo Clinic notes, however, that athletes who are well-trained can have at-rest pulse rates between 40 and 60 beats per minute. In the broader population, a pulse rate that falls below 60 beats per minute is considered low, a condition called bradycardia. According to the Heart Rhythm Society, there can be different reasons for a low pulse rate, including medications, a congenital heart disease and deterioration of heart tissue from aging, but the most common reason for a slow pulse rate is a problem with the electrical signals the body produces to regulate the pace of the beating of the heart.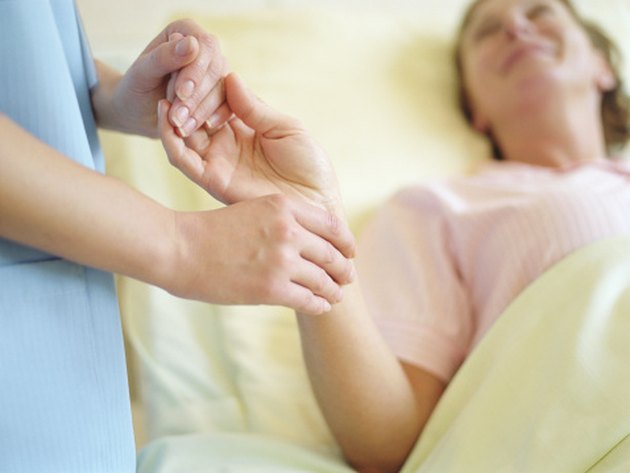 Lightheadedness
Because of a slow pulse rate, the body might not be getting enough oxygen from the bloodstream. This can result in a feeling of lightheadedness. Dizziness can also occur, along with feelings of weakness and unsteadiness. If the lack of oxygen is great enough, fainting, in which there is a loss of consciousness, can occur.
Respiratory Signs
Shortness of breath can be a sign of a low pulse rate. Because the body is not getting sufficient oxygen, it can cause quick, short breaths in an attempt to increase the oxygen intake, even though the problem is with the flow of blood.
Mental Signs
Confusion can be a sign of a low pulse rate. A slow heart beat can cause insufficient oxygen to reach the brain for normal functioning, resulting in a feeling of confusion. A low heart rate can also cause problems with memory for the same reason.
Severe Symptoms
Severe symptoms can result from a low pulse rate that goes untreated. The severity of the symptoms will vary with how slow the pulse rate is. When the body is not receiving enough oxygen, there can be frequent fainting spells. Cardiac arrest and death can result if the pulse rate is low enough and goes untreated.
Is This an Emergency?
If you are experiencing serious medical symptoms, seek emergency treatment immediately.