Adrenaline is one of the body's most important stress chemicals. It is secreted from the adrenal glands, which sit atop each kidney. Adrenaline also plays a key role as a neurotransmitter that facilitates communication between brain cells, or neurons, and other cells.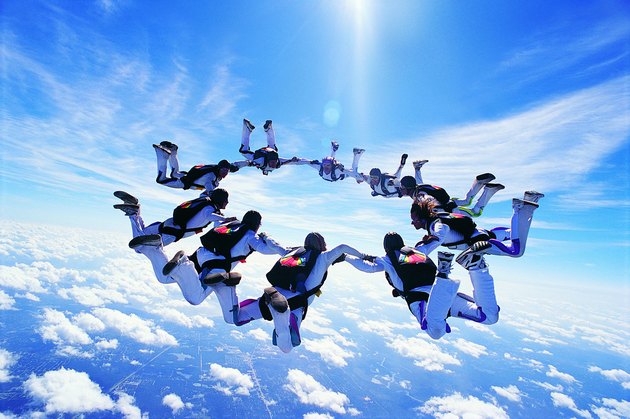 An adrenaline rush is a sudden increased secretion of adrenaline from the adrenal glands. It causes an increase in heart rate and respiration. Adrenaline rushes can be healthy responses to actual threats to a person's well-being or symptoms of an underlying mental disorder. In rare cases, an adrenaline rush can be a symptom of a malignant tumor in the brain or the adrenal glands, according to David Goldstein in the book "Adrenaline and the Inner World."
Physical Threat
The most common cause of an adrenaline rush is a physical threat. When a threat is present in the environment, the body prepares the person for a fight-or-flight response. According to Goldstein, this response involves sending large amounts of stress hormones, including adrenaline, into the bloodstream. This leads to increased blood flow to the muscles and the brain, which helps the person eliminate the threat or escape from it. Some conditions resemble physical threats well enough to create a similar fight-or-flight response. These include extreme physical exercise and verbal threats and abuse.
Post-Traumatic Stress Disorder
People who experience a trauma, which can be the sudden loss of a close family member, an accident, a violent attack or a war, are prone to develop post-traumatic stress disorder.
According to Joseph LeDoux, New York University neuroscientist and co-editor of "Post-Traumatic Stress Disorder," when a person goes through a trauma, her fight-or-flight response kicks in. Adrenaline and other stress hormones rush through the body. In people with post-traumatic stress disorder, the adrenaline rush doesn't come to an end, but continues for years. The person may not feel the chemical rush as strongly later on, but the secretion of stress chemicals continue to be elevated and could cause cardiovascular disease.
Breakups
Breakups can cause adrenaline rushes, especially for people who didn't desire the relationship to end and who didn't see it coming. During a bad breakup, the brain and the body go into a state of extreme stress. The level of serotonin responsible for making people feel good drops, and the levels of stress hormones such as cortisol, adrenaline and noradrenaline increase radically.
One reason breakups can be so physically powerful turns on our concept of self. When people are in love or really like someone romantically, they unconsciously define their concept of self partially in terms of their idea of the other person, reports a research team in the February 2010 issue of "Personality and Social Psychology Bulletin." After a breakup, people grieve not only for the loss of future experiences with the other person, but also the people they were before the breakup occurred.
Panic Disorder
Panic disorder is an anxiety disorder that consists in rapid releases of high doses of stress chemicals. This can give rise to tension, a feeling of being trapped and extreme anxiety.
According to Stanley Rachman and Padmal De Silva, authors of "Panic Disorder: The Facts," panic disorder differs from other anxiety disorders such as generalized anxiety disorder and obsessive-compulsive disorder, which are also characterized by elevated levels of stress chemicals. In panic disorder, high levels of adrenaline are secreted from the adrenal gland in an unpredictable pattern. As very high levels of adrenaline can weaken the heart muscle and even lead to heart attacks, panic disorder is particularly worrisome for people at risk of developing cardiovascular disease.