You may put in hours at the gym trying to build muscle through strength training, but your results will suffer if you do not complement your workouts with the proper diet. A strength training diet plan helps you reach your goals by offering optimal nutrition and calories. Eating smartly can help you obtain a lean and sculpted body.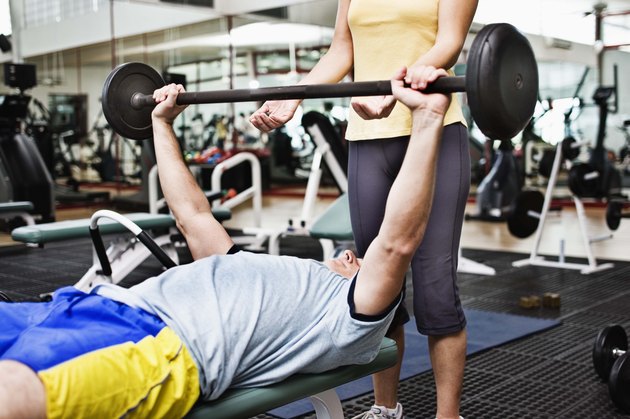 Role of Protein
A diet that supports an active strength training regimen includes slightly more protein than a standard diet. The recommended daily allowance for protein is .8 g per kilogram of body weight daily for the average person. Someone who is actively strength training and intent on building muscle should take in between 1.4 and 2 g of protein per kilogram of body weight daily recommends the International Society of Sports Nutrition.
Other Macronutrients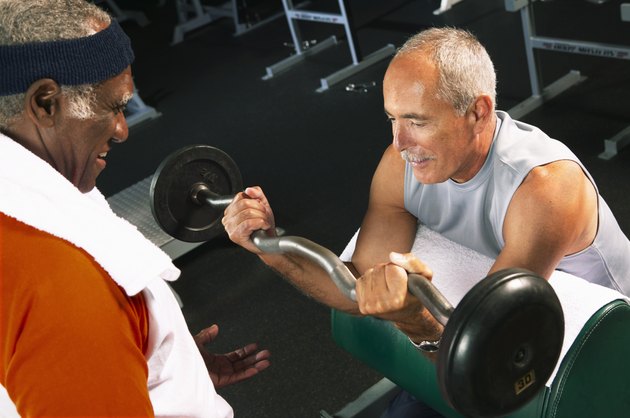 While a strength training diet plan emphasizes a higher protein intake, carbohydrates and fats are still important. Carbohydrates help provide energy for your workouts and daily activity. Take in a minimum of 40 to 55 g per meal if you weight more than 200 lbs. recommends "Muscle and Fitness" magazine in 2005. If you weigh 150 to 190 lbs., take in just 30 to 35 g per meal. Healthy unsaturated fats should comprise between 20 and 35 percent of daily calorie intake as per the Institute of Medicine.
Types of Foods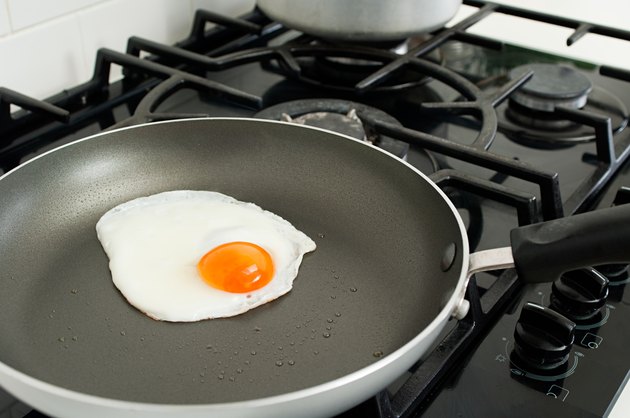 Lean proteins like egg whites, lean beef, white-meat poultry, fish and whey protein are low in saturated fat and offer a complete amino acid profile. Healthy carbohydrates like whole grains, vegetables and fruits offer optimal nutrition and fiber. Unsaturated fats do not contribute to health problems like saturated fats and trans fats, notes the American Heart Association. They do offer support for strength training by helping with vitamin absorption and hormone production .
Strategy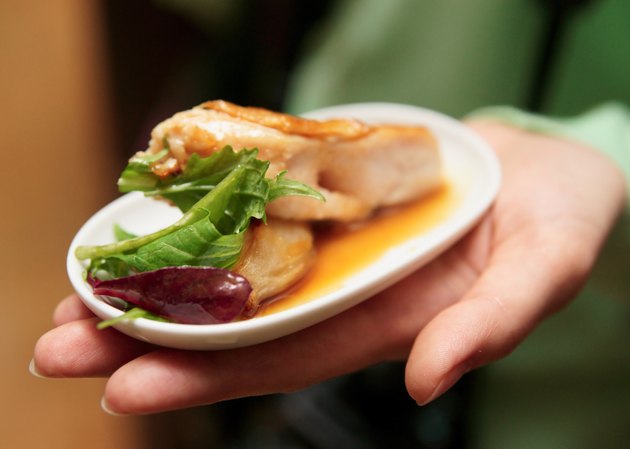 Rather than overload calories and nutrition at three main meals, a strength training diet often features multiple smaller meals consumed every three or four hours daily. This helps maximize your nutrient intake and keeps you from becoming too hungry and overindulging at any one meal. Each meal should contain a serving of protein and a healthy carbohydrate. Examples of meals are grilled chicken with brown rice, broccoli and olive oil or a smoothie made with whey protein, strawberries, flax seed and milk. Make sure one of these meals is split up to be consumed prior to, during and immediately after your strength training workout to help with muscle repair and growth, advises the ISSN.
Misconceptions
While protein helps enhance muscle development, it is possible to eat too much. The "Journal of the American Dietetic Association" published a study in September 2009 confirming that eating more than 30 g of protein in a single meal will not result in greater muscle growth. The body does not store excess protein so any extra protein that your body cannot use is simply excreted in the urine or burned off for energy.