To lose weight, you must consume fewer calories than you burn each day. This is called creating a caloric deficit, and it is the basic foundation of most diet and exercise plans. If you want to build muscle while you lose fat, you must consume enough calories to promote muscle growth while still maintaining your deficit.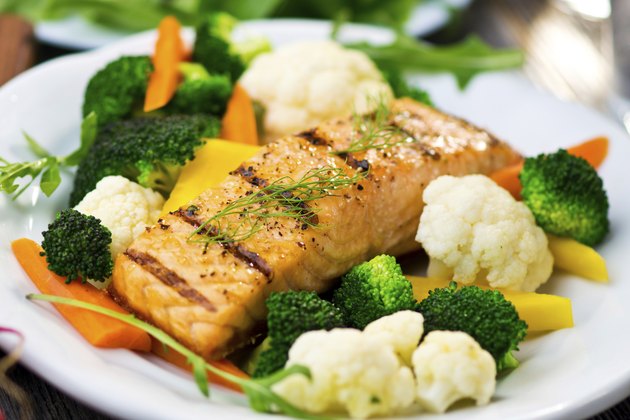 Creating a Caloric Deficit
Each pound of body fat is equivalent to about 3,500 calories. To lose 1 pound in a week, you must cut or burn 500 extra calories each day, usually through a combination of diet and exercise. However, if you cut too many calories, some of the weight you lose will be from lean mass -- your muscle and bone -- instead of just from body fat. According to fitness trainer Tom Venuto, a regular weight training or resistance training program is one way to help minimize your lean mass loss while losing fat.
Increasing Muscle Mass
Your muscles increase in size and strength after you overload them, or work them to exhaustion. You can adjust the way in which you build muscle by changing the amount of weight you lift and the number of repetitions you perform. According to sports trainer Brian Mac, using lighter weights and doing more reps builds your muscular endurance, while using heavier weights and doing fewer reps builds your raw strength and size. You can do either of these things on a caloric deficit, provided you choose your foods wisely.
Diet and Protein
Creating a caloric deficit often means eliminating or limiting the processed foods, sugar, white bread, added fats, soda and alcohol in your diet. To gain size and strength, you need adequate protein. You might not be eating red meat, whole-fat dairy products or eggs, but you can get plenty of protein to support your workouts from lean chicken breast, low-fat dairy products and egg whites or substitutes. According to the Academy of Nutrition and Dietetics, you should eat about 0.7 grams of protein for each pound of body weight to gain muscle -- and eating more than this amount won't accomplish anything.
Considerations
Venuto recommends reducing your daily calories by no more than 30 percent to safely lose fat without losing too much lean body mass. In addition to protein, you need a balanced diet including carbohydrates and healthful sources of fat; the Academy of Nutrition and Dietetics recommends that 50 percent of your daily calories come from carbohydrates and 20 to 35 percent from fats. Talk to your doctor before beginning any diet or exercise program.