Levothyroxine (Leventa, Novothyrox, Synthroid) is a synthetic form of one of the hormones produced by the thyroid gland. If you have hypothyroidism, your doctor may prescribe levothyroxine to help boost your levels of this hormone. Taking too much levothyroxine -- either intentionally or unintentionally --can be dangerous. A mild overdose can cause symptoms of hyperthyroidism, but massive overdoses can cause potentially life-threatening effects.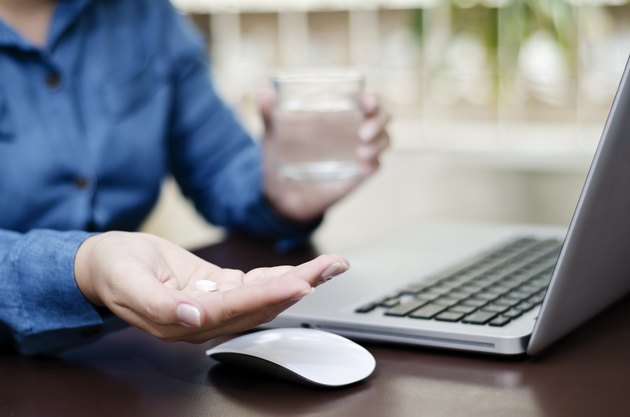 Skin Effects
Many of the signs of hyperthyroidism caused by taking too much levothyroxine can be found in the skin. Too much levothyroxine can make the skin unusually warm, due to increased blood flow. Levothyroxine also increases metabolism, causing your body to generate more heat. As a result, you may perspire more if you take too much levothyroxine and find you are more sensitive to heat. Levothyroxine overdoses can cause a dangerously high fever, known as malignant hyperthermia.
Gastrointestinal Effects
Too much levothyroxine can also affect your digestive tract. Many people lose weight, despite a normal or increased appetite. Excess levothyroxine can also cause more frequent bowel movements or diarrhea, as the hormone speeds the movement of food through the digestive tract.
Neurological and Psychiatric Signs
Taking too much levothyroxine can affect your mood and nervous system. Some people feel restless, irritable or nervous. The extra thyroid hormone can also cause fine tremors, especially in the hands. Other signs include trouble concentrating, problems with memory and confusion. Insomnia is also common in people who take too much levothyroxine. In cases of severe levothyroxine overdose, people can fall into a coma.
Heart Effects
The heart is also affected by high doses of levothyroxine. A rapid and possibly irregular heartbeat is common. In some people, an overdose of levothyroxine can cause heart failure, particularly if they have underlying heart disease.
Warning
Although taking too much levothyroxine can cause only mild symptoms, severe health problems may develop. If you are taking levothyroxine and notice symptoms that may indicate excess thyroid hormone in your body, talk with your doctor about your dose. Contact your doctor immediately if you experience confusion, chest pain, palpitations or trouble breathing.
Is This an Emergency?
If you are experiencing serious medical symptoms, seek emergency treatment immediately.