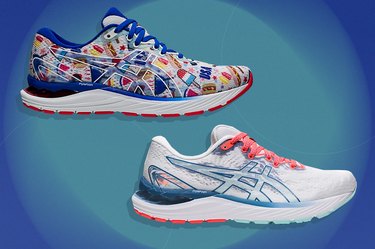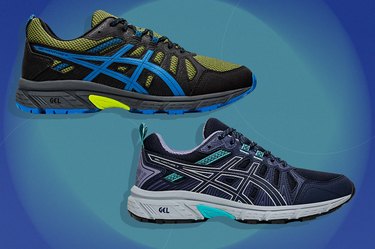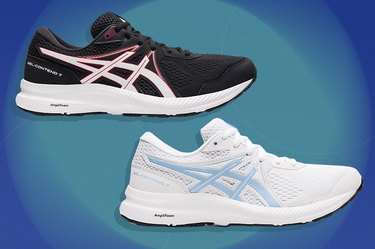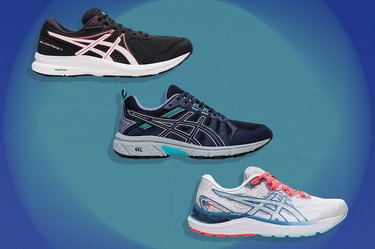 When you're hunting for new walking or running shoes, you're bound to come across the term "supination." In fact, some shoes are made specifically for people who supinate.
Supination (also known as underpronation) is one of three primary pronation types (the other two are neutral and overpronation). Pronation simply refers to the way your foot moves to distribute your weight as you land each step.
With supination, your foot rolls outward as you land — and isn't ideal for your foot, toe or ankle health, Jerome G. Enad, MD, a board-certified orthopedic surgeon, tells LIVESTRONG.com.
When looking for the best walking and running shoes for supination, start with Asics, recommends Dr. Enad. "The company considers pronation type for the wearer when designing each of their shoe models," he says. So we asked him and other experts about the best Asics shoes for supination.
We chose our top picks based on their expert recommendations and criteria. You can learn more about how we cover products here.
Price
Terrain
Cushion
Support
Here are the top three pairs they suggest trying on.
A Quick Note on Language
Manufacturers typically market shoes according to gender, so we have listed both women's and men's picks below. However, the main difference between most men's and women's shoes lies in the shoe width and size. In some cases, men's shoes are built to support greater weights. So people with bigger bodies may want to opt for men's versions, whereas people with smaller bodies may prefer women's versions.
1. Best Overall: Asics Gel-Cumulus 25
‌Terrain: ‌Road
‌Support: ‌Neutral
‌Cushion: ‌Extra
Jack McNamara, CSCS, a certified strength and conditioning specialist, marathoner and program developer at TRAINFITNESS, says this is the best running shoes for supinators, period. While it tops out as the priciest pair on our list, it offers plenty of helpful features.
The foam midsole has strategically placed pillar formations for shock absorption. This may be especially helpful if you supinate.
"Supinators tend to have a stiffer foot, and thus lack the intrinsic shock absorption than someone with a neutral foot may have," says Sophia Solomon, DPM, a board-certified podiatrist in New York City.
Plus, the neutral support and soft, comfortable ride of this shoe allows your foot to move most naturally, McNamara says.
2. Best for Trail Running: Asics Gel-Venture 9
‌Terrain: ‌Trail
‌Support: ‌Neutral
‌Cushion: ‌Regular
If trails are where you log most of your miles, this is the Asics shoe for you. They have all the traits you'd expect from a great trail shoe (traction, durable materials), plus added shock absorption to support and soften each step.
Heel stability is also essential to controlling supination, Dr. Solomon says. To help you stay stable, these trail shoes feature an internal heel counter (a rigid structure in the back of the shoe). This keeps the back of your foot from straying off-course when your foot lands.
They also include a removable sock liner you can take out to make space for an orthotic insole.
3. Best for Stability: Asics Gel-Contend 8
‌Terrain: ‌Road
‌Support: ‌Neutral
‌Cushion: ‌Regular
This road shoe features a supportive foothold to keep your feet stable with each step. The outsole has plenty of flexibility, however, which creates a more natural-feeling foot strike.
"Being a neutral shoe, it's not overly cushioned and fairly lightweight," Dr. Duncan says. The gel cushioning it does contain helps boost comfort and shock absorption for people with supination.
How Supination Affects Your Runs
Ideally, when you walk or run, your foot will roll slightly inward so your weight transfers from the ball of your foot to your big toe as you push off, McNamara says. But some people supinate, or roll their foot outward as they land. This shifts more weight to the outside edge of the foot, causing a push-off from the small outer toes instead of the big toe, he says. It also causes the ankle to tilt.
This can create some issues. For starters, rolling more of your weight onto the outside of your feet can add stress the area. It can also increase your risk of ankle sprains, says Jordan Duncan, DC, a marathon runner and owner of the Silverdale Sport and Spine sports medicine clinic.
What's more, people who supinate tend to have high foot arches. "High-arched feet tend to be rigid and poor shock absorbers. This can increase the risk of stress fractures in the lower extremity," Dr. Duncan says.
How to Tell If You Supinate
The easiest way to check your pronation type is to find a well-loved pair of walking or running shoes. If you don't have a pair yet, any shoes will do. Look at the bottoms of the soles to see where they've worn down the most, recommends McNamara.
‌Supination/underpronation:‌ Wear-and-tear will be visible on the outside edge of the little toe and the outside of the heel.
‌Neutral:‌ There will be signs of wear evenly across the area level with the ball of the foot and toward the outside of the heel.
‌Overpronation:‌ The inner portion directly under the ball of the foot and toward the inside of the heel will be worn down.
4 Factors to Consider When Shopping for the Best Shoes for Supination
Look for a shoe with neutral support, which should be supportive without overcorrecting the way you move. Avoid stability or motion control shoes, as these will accentuate the outward movement of the foot and increase your chances of injury.
The inner sole of the shoe should be flexible enough to flex with your foot, but not so soft that it accentuates any pressure points, Dr. Enad says.
Check that your walking or running shoes include heel stabilizing features, like a heel counter or molded heel section. As Dr. Solomon notes, it's important for supinators to keep their heels centered in their shoes so they can't roll outward.
The right cushion type is different for everyone. While thick cushioning can interfere with your foot's natural ability to sense and absorb force with every step, extra cushion can sometimes feel like the most comfortable option.
If you're not sure what you prefer, try on a couple types and see how they work for your form and foot feel.
More Running Shoes We Love