Raisin bran is a popular breakfast staple that is a combination of whole grain wheat flakes and raisins. Raisin bran is high in fiber, low in fat and provides about 190 calories for a 1-cup serving. A study in a 2006 issue of "Diabetologia" states that eating foods that are high in fiber and low in fat is best for sustained weight loss. Therefore, raisin bran can be a part of a healthy diet conducive for weight loss.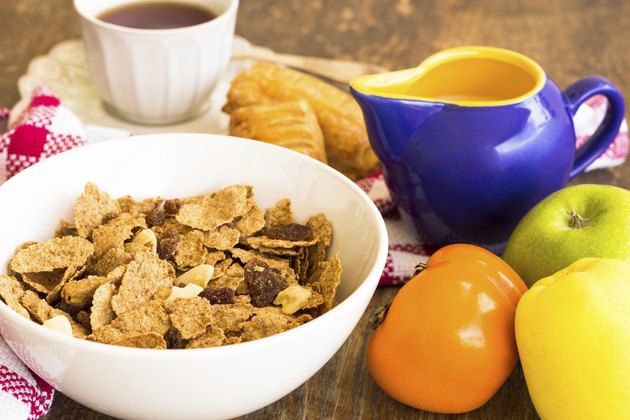 Fiber
A serving of raisin bran provides about 7 g of fiber per serving. The combination of whole grain wheat flakes and raisins makes this cereal a rich source of fiber. Fiber is beneficial for weight loss because, as the Mayo Clinic points out, high-fiber foods take longer to digest. This is beneficial because high-fiber foods can increase satiety, making you feel fuller longer. High-fiber foods also help keep blood sugar stable and avoid spikes in blood sugar that can lead to overeating.
Breakfast
Eating breakfast can decrease the risk for obesity and reduce temptations for overeating later in the day. According to a 2010 study in the "International Journal of Obesity," skipping breakfast not only increases your risk of obesity, it also makes you susceptible to poor social functioning, poor mental status and overall ill health. Choose breakfast foods, such as raisin bran, that are low in fat and high in fiber to start the day off right. Add protein such as skim milk, 1 percent milk or milk alternative, and fruit such as half of a cut-up banana to make a balanced meal.
Variety
Raisin bran can be part of a healthy meal plan, but all combined food choices for the day need to be considered for weight loss. For weight loss to occur, a caloric deficit has to happen. Eating raisin bran in the morning but having high-caloric foods the rest of the day will not help weight loss goals. Eat a variety of whole grains, lean proteins, fresh fruits and vegetables throughout the day for a healthy, balanced diet for weight loss.
Portion Control
Be aware that most cereal bowls hold more than a 1-cup serving, and pouring a serving twice or even three times the 1 cup can be very easy. Measure out 1 cup of cereal and become familiar to what that looks like in a bowl. If you eat more than 1 cup, take into account the extra calories for the meal and adjust your caloric intake the rest of the day accordingly for weight loss goals.
Raisin bran muffins are thought of as a healthy choice for breakfast or a snack. Commercially made muffins are notorious for being high in calories, added sugars and unhealthy fats. Choosing raisin bran cereal over a muffin will save unnecessary calories from extra sugars and fats.
Anti-oxidant
Whole grain cereal, like raisin bran, contains high levels of antioxidants called polyphenols, according to research headed by Joe Vinson, Ph.D., from the University of Scranton. These polyphenols are important for removing harmful free radicals that cause damage to cells in the body. Vinson also points out that raisin bran has the highest amount of antioxidants per serving for whole grain cereal because of the raisins. Antioxidants can help play a role in weight loss by decreasing insulin resistance and improving insulin sensitivity suggests research from the Endocrine Society.