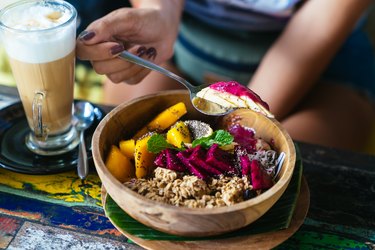 If you're planning to incorporate more plant-based meals into your daily menu, breakfast is a great place to start. But if you're worried about giving up a bacon-egg-and-cheese for good, don't stress: Plant-based eating doesn't mean you can't have meat or dairy ever again, but rather you choose more foods sourced from plants like fruits, veggies, nuts, seeds, oils and legumes.
Pack more plants into your a.m. routine with these six quick-and-easy plant-based breakfast recipes to help kick off your morning the healthy way. The best part: Each pick contains only five simple ingredients, so you won't have to scurry for foods when you're hurrying out the door.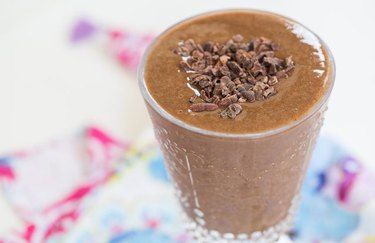 Get your coffee fix in the morning with this mochaccino smoothie that has you covered with 8 ounces of cold brew. A sprinkle of cacao nibs on top will give you an extra dose of caffeine and an energy boost, too. This plant-based recipe substitutes high-protein pea milk for cow's milk for a satisfying smoothie that's both filling and delicious.
Cut down the sugar content even further by opting for unsweetened pea milk and adding zero-sugar cocoa powder for some chocolatey flair.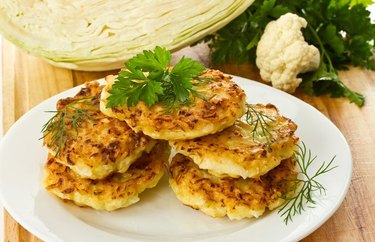 What better way to sneak vitamin-rich veggies into your diet than under the guise of a griddle cake? These flavorful flapjacks swap flour for low-carb cauliflower and pack an impressive 5 grams of protein per pancake, giving you plenty of energy to last through lunch without munching on those muffins in the breakroom.
3. Vegan and Paleo Fig-ocado Pitaya Smoothie Bowl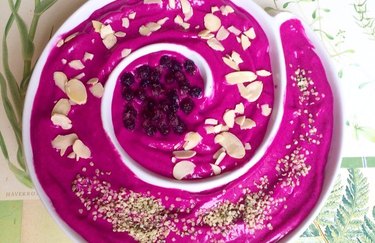 Pitaya, aka dragonfruit, is the star of this plant-based smoothie. Not only does its pretty purple hue perk up your breakfast bowl, the pitaya fruit also contains powerful disease-fighting phytochemicals and antioxidants, per a September 2013 study in ‌BioMed Research International‌.
What's more, the MCT (medium-chain triglycerides) oil in this recipe supplies you with quick-digesting, medium-chain fatty acids that your body can rapidly absorb and use for fuel.
4. Cottage Cheese Protein Pancakes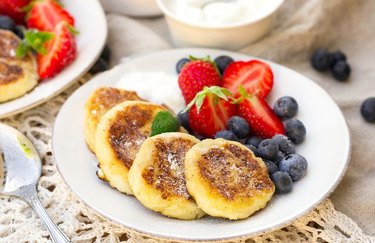 With a whopping 25 grams of protein per serving, you'll flip for these healthy flapjacks that'll help you repair and build muscle after a strenuous strength-training session. (This mix sneaks in extra protein from the egg and cottage cheese!)
Loaded with about 16 percent of your daily recommended value of fiber as well as B vitamins and iron, this oat-based pancake batter offers essential nutrients, aids in healthy digestion and helps support weight management.
5. Vegan Banana-Berry Granola Parfait in a Jar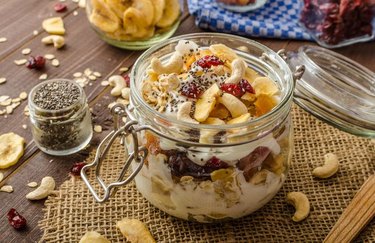 Ready in six minutes flat, this quick-and-easy, no-fuss, fruity parfait is the perfect plant-based breakfast for busy mornings. Between antioxidant-rich blueberries and raspberries, fiber-filled whole-grain granola and healthy fats from protein-packed chia seeds, this powerhouse parfait provides a beautiful balance of nutrients and food groups.
You'll get about 36 percent of your daily value of fiber as well as 6 grams of plant-sourced protein in this Mason jar. To boost the protein content, consider pairing the parfait with a side of scrambled eggs.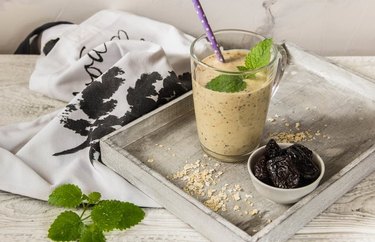 Thanks to their high fiber content, the quinoa and prunes in this plant-based smoothie can help get your digestive juices flowing and keep your gut in good shape. But carb-rich quinoa and prunes are also both excellent sources of energy, making this smoothie the perfect pre-workout meal if you prefer to exercise in the morning.
This sip also contains spicy ginger, which has been linked to having potent anti-cancer, anti-inflammatory, and antioxidant powers, per a July 2014 review in ‌Natural Product Communications‌.
Was this article helpful?
Thank you for your feedback!