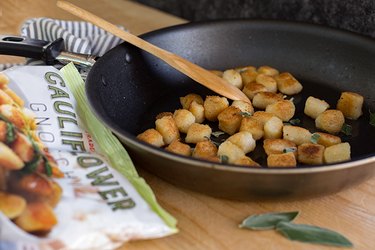 Most trendy "it foods" have their moment until we move on (remember when kale was the popular veggie at the grocery store?). But cauliflower, the white, bland, not-so-sexy vegetable has stolen the spotlight and it doesn't appear to be going anywhere any time soon.
Indeed, a 2018 Nielsen study reported that sales of cauliflower products grew 71 percent over the previous year — compare that to the less-hip kale, which clocked in at just 13 percent!
Retailers like Trader Joe's are catching on and expanding their cauliflower product lines — and we're cheering them on. Adding in nutritious cauliflower is one way to get on a dietitian's good side and doing so typically lowers your food's calorie and/or carbohydrate content, which makes weight-conscious consumers happy, too.
Next time you're shopping at TJ's, add these five dietitian-approved Trader Joe's cauliflower products to your haul.
1. Organic Riced Cauliflower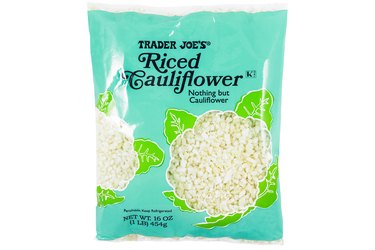 Per ¾ cup: 20 calories, 0 grams fat (0 grams saturated fat), 70 milligrams sodium, 4 grams carbohydrates (2 grams fiber, 2 grams sugars), 2 grams protein
This one's a staple every freezer needs. The cruciferous veggie is so versatile you can throw it into anything from stir-fries to curries to fried rice. The best part: You don't have to actually do all of the messy prep work of actually "ricing" it in your food processor or blender. Plus, because it's frozen instead of refrigerated, it lasts longer — and you can use only what you need and leave the rest in the freezer, which cuts down on waste.
2. Mashed Cauliflower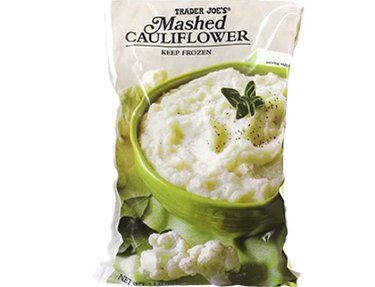 Per 1 cup: 50 calories, 2 grams fat (1 gram saturated fat), 270 milligrams sodium, 7 grams carbohydrates (2 grams fiber, 3 grams sugar), 2 grams protein
Mashed potatoes are delicious but they can be labor-intensive with all of the scrubbing, boiling and mashing involved. This frozen mashed cauliflower dish is certainly easier to prep. Plus, the milk, butter and seasonings are already added. Try mixing it with your regular mashed potatoes to add in some more vegetables and nutrients.
3. Cauliflower Gnocchi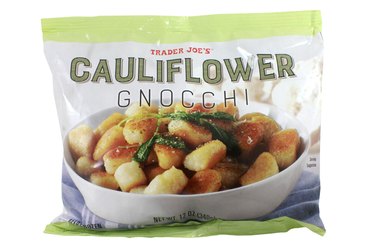 Per 1 cup: 140 calories, 3 grams fat (0.5 grams saturated fat), 460 milligrams sodium, 22 grams carbohydrates (6 grams fiber, 0 grams sugar), 2 grams protein
This might be Trader Joe's all-time cult favorite. Cauliflower Gnocchi's popularity has skyrocketed since mid-2018 and the dedicated hashtag has tons of tags featuring predominately TJ's faux-potato product — and all for good reason.
The main selling point is that a cup of traditional Italian gnocchi has 250 calories, 11 grams of fat and 32 grams of carbohydrates while the Trader Joe's version has just 140 calories, 3 grams of fat and 22 grams of carbs in the same serving. You'll find it in the frozen section and it's vegan-friendly, too.
4. Riced Cauliflower Bowl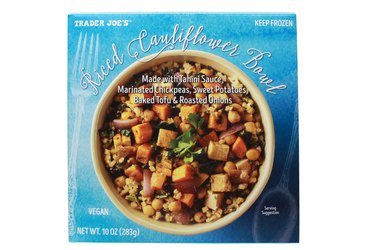 Per 1 cup: 120 calories, 7 grams fat (1 gram saturated fat), 160 milligrams sodium, 11 grams carbohydrates (3 grams fiber, 2 grams sugar), 5 grams protein
Store this bowl in your freezer for those times when you forget to meal prep or swear off Seamless for the sake of your wallet. This bowl of cauliflower, tahini, kale, onion and herbs is your launching point to an easy DIY meal. Top the bowl with rotisserie chicken, tofu and avocado or add it to a whole-grain wrap with veggies and protein.
5. Cauliflower Tabbouleh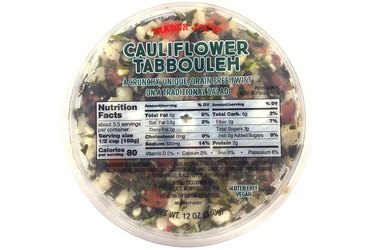 Per 1/2 cup: 80 calories, 6 grams fat (0.5 grams saturated fat), 320 milligrams sodium, 6 grams carbohydrates (2 grams fiber, 2 grams sugar), 2 grams protein
Tabbouleh is a Mediterranean salad typically made with bulgur, parsley, mint, tomatoes and lemon. Trader Joe's version offers a different spin and flavor by swapping out the bulgur for finely riced cauliflower. Toss it on your green salad or on hummus for added flavor, or enjoy it with a whole-grain pita or atop homemade pita nachos. It's relatively high in sodium so monitor your intake if you're on a salt-restricted diet.