A "cold" in a baby's eye is referred to as conjunctivitis. Your baby's conjunctiva is the membrane that lines her eyelids, and when it becomes inflamed or infected, your baby develops conjunctivitis. This condition can be brought on by the baby's exposure to allergens, bacteria, diseases, chemicals, chlamydia at birth, fungus, or parasites. When conjunctivitis is caused by a virus, this is referred to as pink eye and it is very contagious due to its long life outside of the body. This virus lasts 7 to 14 days and the third to fifth day of infection often are the worst. There are three types of conjunctivitis that include viral, allergic and bacterial conjunctivitis. Treatments vary depending on which type of conjunctivitis your baby acquires.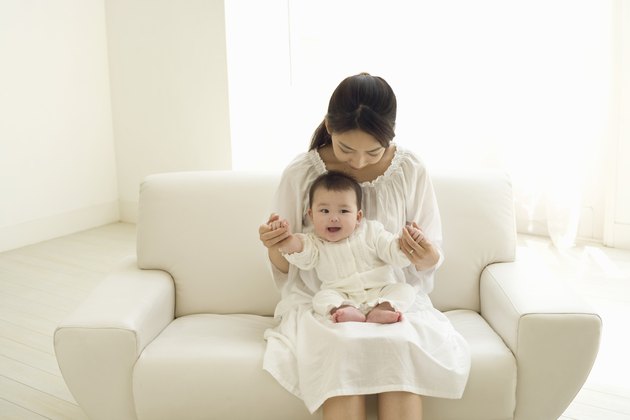 Step 1
Talk to your doctor about allergy eye drops that are appropriate for your baby if he is diagnosed with allergic conjunctivitis. The physician may want you to wait and see if the condition clears on its own once your baby has no further contact with the allergen.
Step 2
Put cool compresses over your baby's affected eye, as this soothe her if she has allergic conjunctivitis.
Step 3
Place antibiotic eye drops or ointment in his eye if, after examination, he is diagnosed with bacterial conjunctivitis. Mild bacterial conjunctivitis may resolve without treatment but antibiotics lessen the spread of infection and reduce healing time.
Step 4
Apply clean washcloths that have been soaked in warm water to your infant's closed eyes if she has bacterial or viral conjunctivitis, for comfort measures.
Step 5
Administer artificial tears and cold packs if your baby is suffering from dryness and inflammation of his eye due to conjunctivitis. Artificial tears can be found over-the-counter and do not require a prescription.
Step 6
Request antiviral medication to be prescribed by your child's physician if you feel her viral conjunctivitis is caused by an underlying condition, such as a strain of the herpes simplex virus or varicella-zoster virus. Antibiotics are not effective against any viral infection and should not be used for this form of conjunctivitis.
Step 7
Take your baby back to see his physician if the conjunctivitis causes light sensitivity, severe pain in the eye, his symptoms reappear after dissipating or if his conjunctivitis is being treated with antibiotics and symptoms do not begin to improve within 24 hours of treatment.