Everyone slips up and over-indulges every now and again, but you don't have to feel guilty: Overcome the damage by getting right back on track. To lose weight after a heavy meal, pay strict attention to the basics: Watch calorie intake and exercise every day. Jump-start the process by taking a walk right after you eat, and keep the momentum going by taking the time to tally calories, creating a weekly calorie budget -- and pondering why you ate too much in the first place.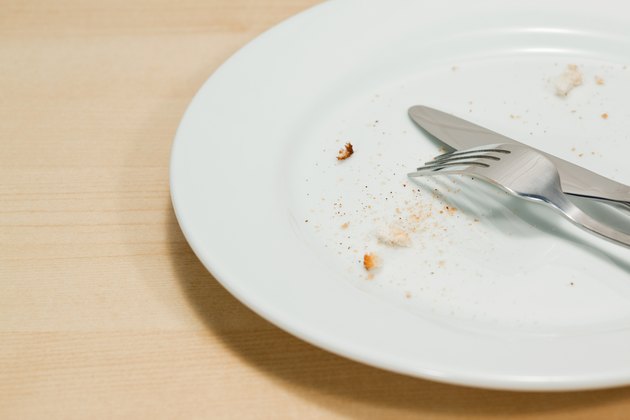 Take a Walk After Your Heavy Meal
After splurging, you can begin to offset the extra calories by boosting your activity level. It's best to wait three to four hours before engaging in intense activities; a full stomach may cause nausea and cramping. But it's safe to take a walk right after you eat, and walking offers two benefits that support weight loss. For starters, you'll begin to burn those calories. The amount of calories used depends on your weight and how fast you walk, but a half-hour walk at the pace of 3.5 miles an hour uses 120 to 178 calories, notes Harvard Medical School. Low-intensity physical exercise at any time helps lower the amount of glucose in the bloodstream. Walking after a meal significantly improves blood sugar in healthy people and those diagnosed with diabetes, reported Diabetes Care in 2012. Keeping your blood sugar balanced is important for weight loss. When blood sugar is high, the body stores the excess sugar as fat while also preventing existing fat from being used for energy.
Work a Heavy Meal Into a Weekly Calorie Budget
After eating a heavy meal, you may feel as if your diet is ruined, but look at it from the perspective of a weekly calorie budget. A weekly calorie budget is determined by multiplying daily calorie goals by 7 to get maximum weekly calories. With a goal for the week, you can divide the calories in a way that allots fewer calories to five or six days and allows a larger number of calories one or two days.
Work a heavy meal into the weekly calorie budget by assigning it to a high-calorie day; then restrict daily calories the rest of the week. If the heavy meal was exceedingly high in calories, you may need to reduce daily calories for two weeks without including any other higher-calorie days. When you tally daily calories at the end of the week, you're in good shape as long as they're within the weekly calorie budget. Remember -- weight loss is a gradual process from eating fewer calories than you burn on average. If you miss your calorie deficit from time to time, it's not the end of the world.
Considering weekly calories is also a good concept for checking your weight. It's better to weigh yourself weekly rather than daily because body weight naturally fluctuates each day. You may lose water weight for a few days; then gain water weight if you exercise because stress in muscles leads to temporary water retention, reported Dr. Melina Jampolis in 2010 on the Cable News Network.
Track Calories to Lose Weight
To lose weight, or to determine the impact of a heavy meal on your diet, it's essential to know how many calories you consume each day. Studies show that keeping a food journal helps people lose more weight, according to the University of Illinois at Urbana-Champaign. If tracking everything you consume and calculating calories sounds like a bother, stop to think about how easy it is to eat more than you realize just because you didn't pay attention to portions and calories. For example, if your spaghetti dinner filled a large plate, you really ate two or three servings, or about 400 or 600 calories, respectively, not including any sauce and toppings.
After a heavy meal, it's especially important to calculate the calories you consumed in that one meal. Then you can compare it to the daily calories in your journal and decide how to adjust your diet over the next week to offset the heavy meal. To lose weight at the rate of 1 to 2 pounds weekly, which is healthy and sustainable, you'll need to consume 500 to 1,000 fewer calories every day, reports the Centers for Disease Control and Prevention.
Identify Triggers to Heavy Eating
After over-indulging, take a step back and forgive yourself. Don't waste energy feeling guilty and don't continue to overeat because you think your diet is already botched. Instead, get back on track and undo the damage. One way to move forward is to identify the reason you ate too much and discover the triggers that led to over-consumption. If the heavy meal was a one-time or rare splurge -- maybe you were at a party or on vacation -- you only need to return to a healthy diet. However, if eating a heavy meal has become a habit, or if you struggle with overeating, don't hesitate to get help from a registered dietitian or a counselor.
Use your food journal to uncover eating triggers. Just add notes about when you ate, what you were doing prior to eating and how you felt. Be sure to record when you felt stressed, sleepy, angry or irritated. Also note whether you were hungry, if you craved a specific food and if you ate on-the-run -- that often causes over-eating, according to a report in the Journal of Health Psychology in August 2015. Over time, patterns will emerge so you can identify triggers. You may notice that you tend to eat too much while you watch TV, when you're angry or when it's late at night. Depending on the trigger, you may want to designate a low-cal snack to replace the splurge or plan to divert your focus away from food with an activity such as going for a walk.