Although testosterone is commonly known as the male hormone, it's present in both males and females throughout the lifespan. It plays an important role in the development and function of body organs like your brain, heart, blood vessels, bones and muscles. Your testosterone level dictates the development of gender-specific features such as facial hair, voice and genitalia.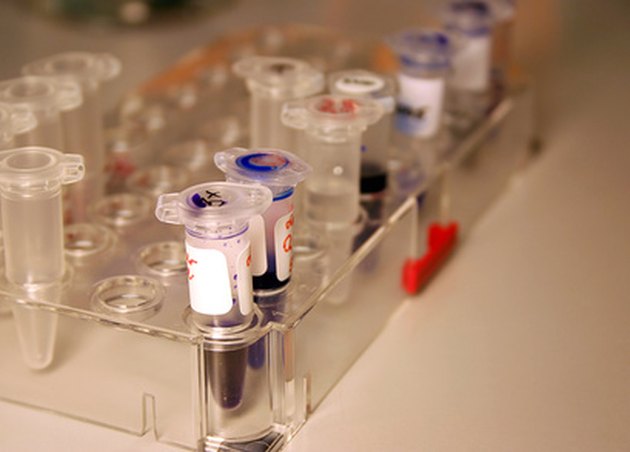 Testosterone Production
Your pituitary gland is responsible for starting and regulating the production of testosterone in your body. When testosterone levels are low, the pituitary gland secretes a hormone known as luteinizing hormone, or LH. The LH travels to your adrenal glands to trigger testosterone production. If you're a man, you also produce testosterone in your testicles. Women produce a smaller amount of testosterone in their ovaries.
Blood Test
Testosterone blood levels are done in medical laboratories as ordered by a physician or other healthcare provider. According to Lab Tests Online, you don't need any special preparation for a testosterone blood test.
Male Testosterone Levels
According to MayoClinic.com, testosterone levels in men peak during the teen and early adult years, then decrease about 1 percent a year after age 30. A male infant starts out with less than 30 nanograms/deciliter, or ng/dL, in his blood, says the University of Michigan Health System. Teens between the ages of 14 and 15 years should have between 8 to 53 ng/dL of testosterone in their blood, while 16 to 19-year-olds average 200 to 970 ng/dL. Men in their 20s or 30s can expect to have a testosterone level of 270 to 1,080 ng/dL. From 40 to 59 years of age, testosterone levels drop to between 350 and 890 ng/dL. From 60 years on, a typical testosterone level in men is between 350 and 720 ng/dL.
Female Testosterone Levels
Testosterone levels are lower in females than in males, and women see a significant decrease after menopause. The University of Michigan Health System says a female infant should have less than 10 ng/dL in her blood. Between 7 and 9 years of age, the normal level is 1 to 12 ng/dL and from 10 to 13 years of age, a girl should have a testosterone level of 2 to 33 ng/dL. Levels in teens between the ages of 14 and 17 typically measure 8 to 53 ng/dL. In adult women, levels run between 10 and 70 ng/dL before menopause, dropping to 7 to 40 ng/dL after menopause.
Considerations
Your doctor will consider your medical history when evaluating your testosterone level. Conditions such as alcoholism and liver disease can lower testosterone levels in men, according to Lab Tests Online. Medications like steroids can lower testosterone levels, while seizure drugs, estrogen and barbiturates can raise testosterone levels.