Gadolinium is a substance that is referred to as a "contrast agent." If you are going to have a medical test called an MRI (magnetic resonance imaging), gadolinium may be injected into your blood vessels first. This substance in the blood vessels provides a clearer picture from the scan, as it produces better contrast between the body's normal tissues and tissues that may be damaged from cancer or multiple sclerosis, as well as other conditions. According to Mesothelioma-Assistance.org, gadolinium has been in use in the U.S. since 1988 and is approved by the Food and Drug Administration (FDA). You should watch out for side effects if you undergo a test using gadolinium.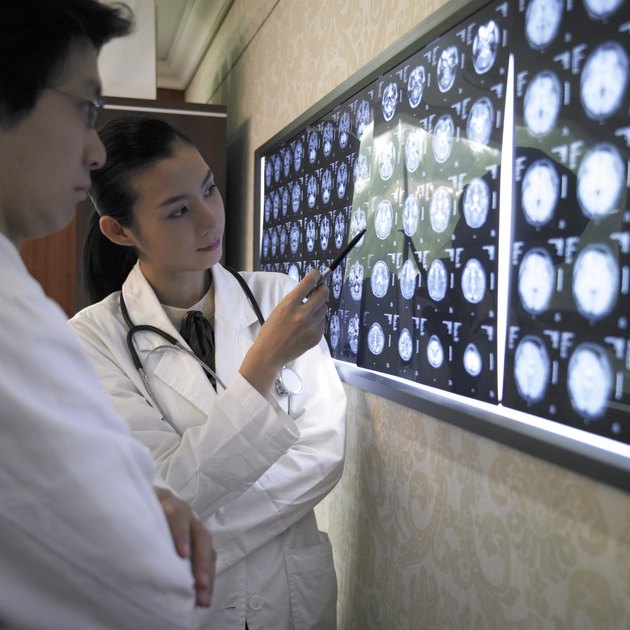 Common Side Effects
The "UK Specialist Hospitals," in the United Kingdom have published a patient information fact sheet on gadolinium contrast. While they note that side effects are rare, they acknowledge that common complaints include dizziness, headaches, nausea and vomiting, breathing problems, itchiness and pain. Mesothelioma-Assistance.org also notes that itchiness and pain, along with inflammation, often occur the point on the body in which gadolinium was injected. Low blood pressure can also occur.
Allergic Reaction Side Effects
Less common side effects include allergic reactions to gadolinium. An allergic reaction to gadolinium is similar to other allergies, with symptoms of a rash or hives, itchy eyes and facial inflammation.
Nephrogenic Systemic Fibrosis
The most severe reaction to gadolinium is called nephrogenic systemic fibrosis, or NSF. According to the FDA, NSF causes fibrosis in the skin and tissues all through the body. Symptoms are tightness and thickening of the skin, resulting in pain and a loss of movement in the joints. It can also develop in the thighs, abdomen and lungs. There is a possibility that NSF can lead to death. The FDA also states that patients with healthy kidney function do not appear to be at risk for NSF, but those who have severe problems with kidney and liver function are at serious risk.