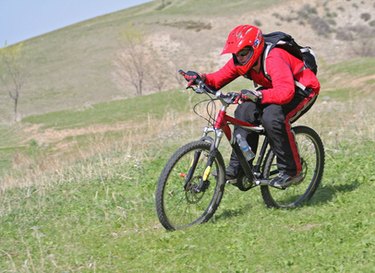 While Cannondale has more of a Rolls-Royce reputation among certain cyclists, Trek has Tour de France bragging rights, with nine victories on its models. Lance Armstrong, for example, winner of a record seven consecutive Tours, rides a Trek. "The companies have bikes that compete each other against at every level," notes Simone Jowett, manager of Bike Doctor of Linthicum in Linthicum, Maryland, which sells both brands.
Types
Both companies sell mountain, road, commuter and women-specific design bicycles. Trek also sells triathlon, electric and children's bicycles, as well as the Gary Fisher line of bicycles, originally mountain only but now road bikes as well. "Trek offers a bigger umbrella," Jowett says.
Considerations
The same frame may differ slightly between the manufacturers. If you have a long torso, Cannondale's top tubes tend to run a bit longer and may fit a bit better, Jowett advises. Conversely, a short torso may match up better to a Trek. Finish and overall quality are comparable. "Trek actually offers a better value at the lower end. They came up with the Trek 1.1 at $600," Jowett notes, citing the model's September 2010 price.
Features
Both companies make carbon and aluminum frames, which give different road feels and are a matter of personal preference, Jowett says. "Some love carbon, and some love aluminum," Jowett says. Trek offers its signature Madone 1.1 at $1,900 as of September 2010, "and finding a carbon bike under $2,000 is very good," Jowett says. Trek also offers entry-level mountain and kid's bikes made of steel. Both companies make their bicycles in Taiwan, with the exception of Trek's high-end Madone, which is made in Waterloo, Wisconsin.
Expert Insight
Penny Troutner, owner of Light Street Cycles in Baltimore, believes Cannondale has more progressive designs than Trek and puts more effort into research and development. She points to Cannondale's long history with aluminum frames, as well as the curved chainstays on the Cannondale 6 and the Synapse, which absorb more of road shock. Cannondale offers a left fork that sits sideways to the front wheel on its high-end mountain bikes such as the Scalpel, RZ and Jekyll, for added lightness and stiffness. Cannondale also provides strong offerings for women, especially women's hybrids, Troutner says. "Women who say they can't find a hybrid to fit me can usually find a Cannondale," she notes.
Comparisons
To compare a Cannondale to a Trek, visit the online site PedalsMonkey, which allows side-by-side comparisons of the two brands, as well as Specialized, Schwinn, Giant and Scott bikes. The site groups bicycles by mountain, bike, comfort and triathlon, and allows you to call up, for example, a Trek model's basics, specifications, manufacturer's suggested retail price and user ratings, followed by a Cannondale.