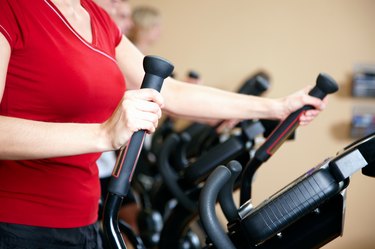 NordicTrack makes many residential fitness machines, including treadmills, exercise bikes and ellipticals. Some of the features of the NordicTrack ellipticals include adjustable stride length, preset workouts, iFit compatibility, foldable units and incline power ramps. The incline is one way to increase the difficulty of your workout. On occasion, the incline ramp may stop functioning properly. In this case, you will need to reset the machine.
Step 1
Use a button combination on your console to initiate the recalibration process. Depending on the model of your NordicTrack elliptical, the button combination may vary. Hold down the "Start" button and the heart rate increase button at the same time for five seconds, if your console has a "Start" button. Hold down the "Program Select" and Resistance "1" button simultaneously for five seconds, if your model doesn't have a "Start" button. Disregard any numbers that may appear in the display.
Step 2
Press either the "Start" or "Program Select" button again. Disregard any combination of letters and numbers that appear.
Step 3
Press the "30 degree" ramp button. The ramp will move up and down while it is calibrating.
Step 4
Press either the "Start" or "Program Select" button three times. This will reset the console to normal operating mode. Use the machine as usual.
Tip
Refer to your owner's manual for instructions for your model.