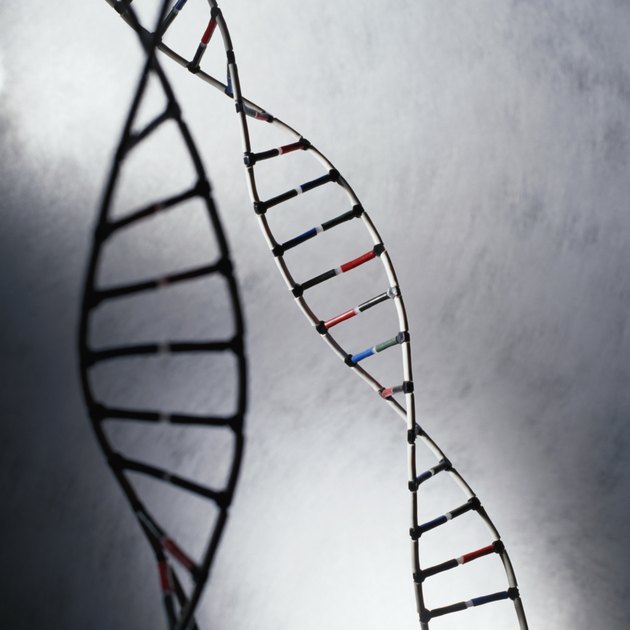 Estrogen Forms
The term "estrogen" actually describes several different related hormones. These estrogens are estrone (predominant form during menopause), estriol (primary estrogen during pregnancy), and estradiol (which is the most common form of estrogen in non-pregnant women between puberty and menopause). Estrogens are the dominant female sex hormone, which means that estrogen is responsible for female reproductive health and the development of sexual characteristics (such as breasts). Estrogens work by traveling into cells and binding to specific spots in the DNA, which causes certain proteins to be made.
Estrogen Production
Estrogens can be produced by fat tissue, the liver, the adrenal glands and the ovaries. The ovaries are the primary source of estrogens in premenopausal women, except for women who are pregnant. Estrogen production from the ovaries begins with the theca interna cells, which convert cholesterol into a hormone called androstenedione. This hormone is then exported to other cells within the ovaries, called the granulosa cells. These cells convert the adrostenedione into estradiol. During pregnancy, estrogen production is taken over by the placenta. After menopause, the ovaries stop producing estrogens and it is instead made by the adrenal glands, the liver and the fatty tissue within the breasts.
Estrogen Control and Function
Estrogen is an important part of the female menstrual cycle and its secretion depends on two other menstrual hormones, luteinizing hormone and follicle stimulating hormone. When estrogen levels are low (at the beginning of the menstrual cycle), follicle stimulating hormone increases. This stimulates the ovaries into the development of a follicle, which will ultimately produce an egg. The follicle produces luteinizing hormone. The combination of these two hormones allows estrogen to be secreted. One function of estrogen, in terms of menstruation, is the thickening of the lining of the uterus. This helps prepare the uterus to support a fertilized egg if the woman becomes pregnant. If fertilization does not occur, estrogen levels fall, causing the uterine lining to slough off, resulting in menstruation.